Banke Bihari Temple included among the 100 iconic sites.
2021.12.28 (Vrindavan Today News): Shri Banke Bihari Temple in Vrindavan has been included among the 100 iconic sites under the SIP (Swachh Iconic Places) scheme which was launched in 2016 under the Ministry of Jal Shakti.
Other heritage sites of Uttar Pradesh like, Manikarnika Ghat in Varanasi, Taj Mahal in Agra, Vidur Kuti Temple in Bijnor, Prayagraj Naag Vasuki temple in Daraganj and Agra's Red Fort have made it to the list.
The scheme commonly known as SIP (Swachh Iconic Place), is an initiative under the Swachh Bharat Abhiyan which was launched in the year 2014.
"Considering the growth of the tourism department, the center has announced Shree Banke Bihari temple among the top iconic sites. This site of pilgrimage shall become an icon for the state," said Anunya Jha, Municipal Commissioner of Mathura.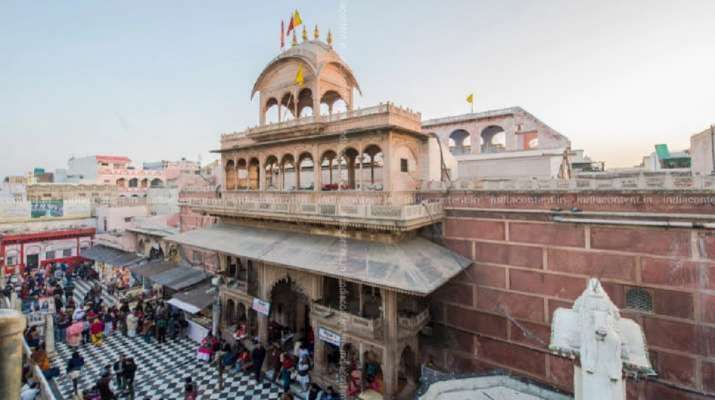 According to this programme, cleanliness facilities will be upgraded. Drinking water availability and other necessities will also be provided. PSU has been asked to provide contribution in order to achieve excellent results for the proposed work. The cleanliness drive shall be carried out under the supervision of Mathura Vrindavan Municipal Corporation. An official letter regarding this project has been sent to the District Officer in Mathura. Referring to this, the Swachh Bharat Mission and the Zilla Panchayat Raaj Vibhag have started planning the budget. Technical and financial support will be provided for each site by a designated Public Sector Undertaking (PSU).
Some of the enumerated activities undertaken for the initiative include improvement in drainage facilities, sewage infrastructure, sanitation facilities, installation of Sewage Treatment Plant, water vending machines, better transport facilities and other such benefits. Beautification of the temple and construction of parks might also be seen.
"This is a matter of pride for all of us that Shri Banke Bihari Temple has been included in the top iconic palaces in the country. I consider, we all should be following the tradition, while maintaining dignity in the temple," said Acharya Gopi Goswami, working member at Shri Banke Bihari Temple.
Under this scheme, selected heritage, tourist sites, spiritual and cultural places of India are transformed. The motive behind this is to enhance the experience of both domestic and foreign visitors. Their aim is to improve the sanitation and cleanliness standards of these sites, especially on the peripheries and the area nearby.
Acharya Gopesh Goswami asked the Government to curtail property ownership across the 100 meter area near the temple. He also demanded provisions that would facilitate darshan for the devotees.
The modification and beautification of the Banke Bihari Temple will bring more fame and glory to the epic pilgrimage site. This will benefit the local residents along with those who visit here.