Tradition of Winter Seva in Braj Temples
By Ashee Sharma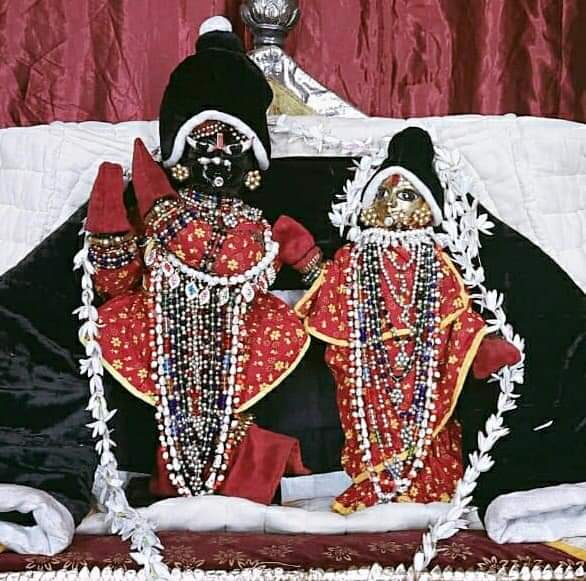 2022.01.02 (Vrindavan Today News): ​It is said that 'rituraj basant' (spring-the king of all seasons) who resides eternally in Vrindavan gives rise to the myriad seasons only for the pleasure of Shri Krishna and His beloved Radharani. How then can winter, however harsh and unrelenting, not become a festival of delight for the divine couple in this holiest of pilgrimages? Writes Shri Gadadhar Bhatt ji…
नीकी रितु लागत हे अति शीत की। अंसन दे पिय प्यारी पौढे बात करत रसरीत की।। बन गई एक रजाई भीतर होत परस्पर जीत की। गदाधर प्रभु हेमंत मनावत चाह बढ़ी नव प्रीत की।।
The winter season is very dear to us because the intense cold brings our 'priya-priyatam' closer. Huddled up together, They delight in the warmth of the blanket and that of sweet, loving words and gentle caresses. Shri Gadadhar Bhatt ji says we consider the 'Hemant Ritu' (winter season) a festival, for it increases the divine lovers' longing for each other.
It is with this 'bhaav', (emotion) that Braj celebrates the festival called winter. From 'Shringaar' to 'Bhog' and 'Raag', all of Tahkurji's sevas are tweaked for the comfort and pleasure of Shri Krishna and Radharani with the season's onset
Winter service in most Braj temples continues for 40-45 days, roughly till the arrival of 'Basant Ritu' (Indian spring). While this time duration may vary in accordance with the weather conditions, for most temples the peak of the 'festival of winter' is between Margshirsha Shukla Dwadashi and Paush Shukla Dwadashi.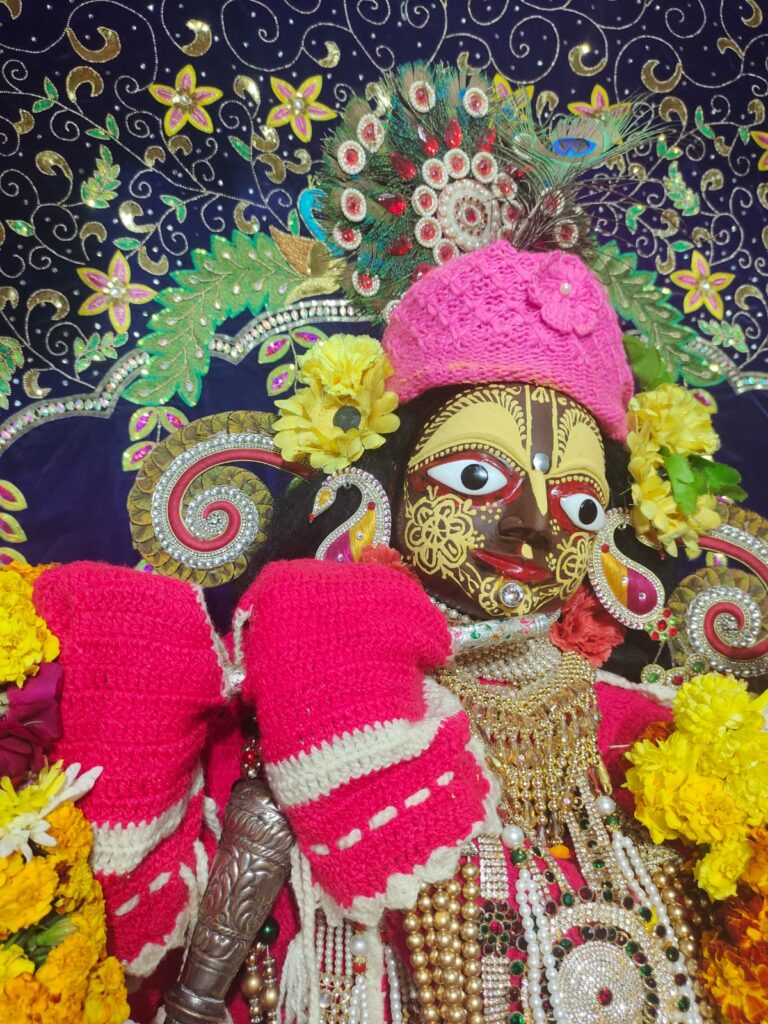 Margshirsha Shukla Dwadashi which signals the setting in of crisp winters is celebrated as 'Vyanjan Dwadashi'. This day is also significant for it marks the beginning of one of the most luscious and rich traditions of Braj – the month-long 'Khichdi Mahotsav'. Most changes in temple rituals and routine happen around this Dwadashi and the following 'Margashirsha Poornima', also known as 'Gaddal Purnima' – the day when thick woollen blankets ('gadda') are offered to the deities.
As part of daily 'ang-seva', the deities are given a nice massage with warm and perfumed essential oils (especially saffron and henna 'ittr') before the bathing rituals are carried out with warm water. After the bath, They are dressed in assorted winter finery that includes outfits such as hand-stuffed cotton shawls, 'bagalbandhi' shirts, and 'labaada' or 'fargul' (a type of overcoat).
Pushpang Goswami of Shri Radharaman Temple, Vrindavan shares that "For the entire month beginning Margshirsha Dwadashi, devotees cannot have 'charan darshan' of Thakurji because he wears woollen socks."
Care is taken to keep the deity's surroundings warm and cosy. For example, in Mathura's Dwarkadhish Temple and Shri Radharaman Temple in Vrindavan all curtains are replaced with thick ones that are stuffed with cotton. 'Angithis' (braziers) are lit throughout the day and huge blankets are offered to Thakurji for a comfortable sleep at night.
In this regard, Baldeo's Dauji Temple deserves a special mention where Brajraj Dauji Maharaj and his divine consort Revati are offered a giant quilt made with 75-metre-long cloth and 12 Kgs of cotton on 'Gaddal Purnima'. Further, Dauji's winter Poshak is made with 56 metres of warm fabric.
Flavours from the Lord's winter kitchens
Starting from Margashirsha Shukla Dwadashi, also known as 'Vyanjan Dwadashi', a month-long (or 45-day) 'Khichdi Mahotsav' is celebrated in the 'Sapta Devalayas' and other temples of Braj every year. This winter, Vyanjan Dwadashi fell on December 9, 2019.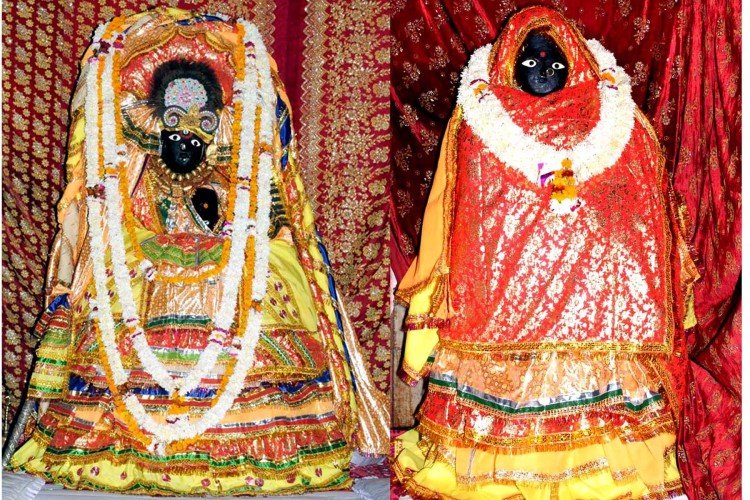 The 'Sapta Devalayas' (seven historic temples) of Vrindavan include Radha Damodar, Radha Gopinath, Radha Madanmohan, Radha Raman, Radha Shyamsundar, Radha Gokulanand and Govind Dev Temples. The festival began with a 'chota annakoot' bhog for Thakur Shri Radhadamodar.
The 'khichdi bhog' is prepared by the temple goswamis and their family members (mostly male). The humble 'khichdi' made of rice and lentils is the ultimate winter comfort food particularly when cooked in pure ghee, with lots of nuts and warming spices such as saffron, nutmeg, cloves and pepper. It is well-known for balancing all the three Ayurvedic Doshas.
On the side, Shri Radha and Krishna enjoy various types of 'achar' (spicy Indian pickles), 'pakoras' (fried fritters), 'dahi' (yoghurt), jam, butter, and sweets. Sweets made with sesame seeds are a special offering during the winter.
In Radharaman Temple, 'khichdi' is served to Shriji as 'Shringaar Bhog'. Lord Radharaman savours it while enjoying the warmth from the simmering 'angithi' (brazier). Other winter delicacies such as 'til laddoos' and 'til pattis' made using sesame seeds and jaggery are also offered to Him with the accompaniment of traditional songs sung by devotees.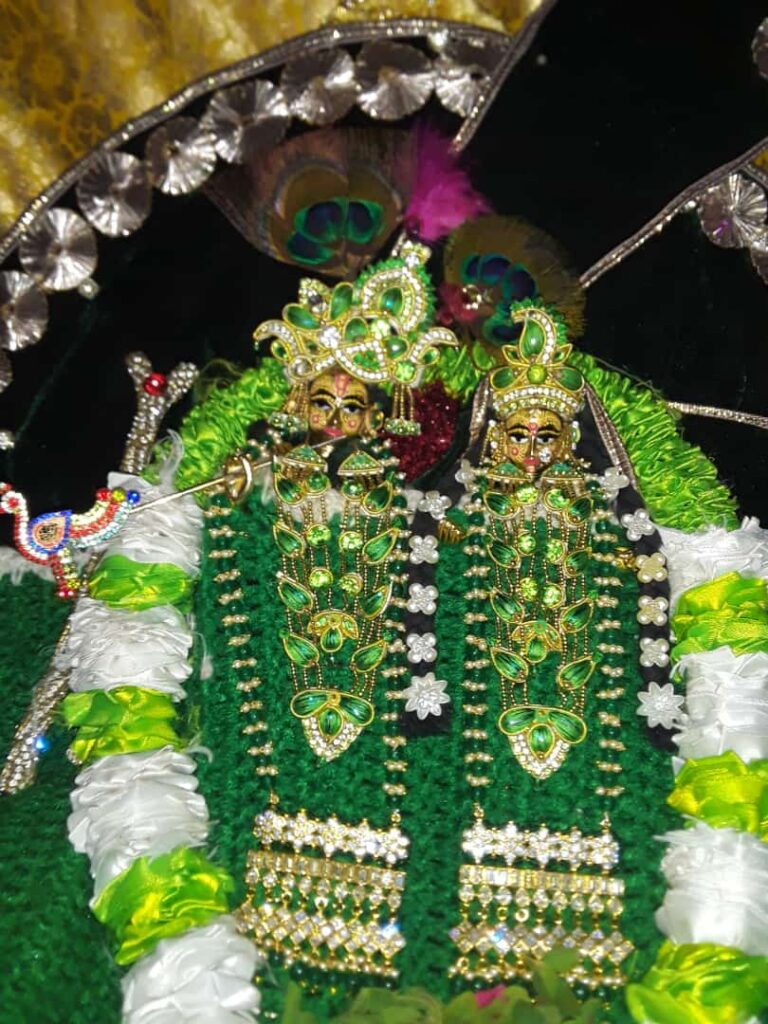 Banke Bihari ji's bhog for the season includes morning offerings of 'kesar makhan mishri' and 'kesar halwa'; followed by 'kesar kheer' in the afternoon and 'kesar doodh' at night. In Mathura's Dwarkadhish Temple, 'Rajadhiraj' is served saffron milk and 'suhaag sonth'- a winter savoury made with saffron, almonds, dry ginger and other warm ingredients.
With the onset of the month of Paush (of the Hindu calendar), Goswamis of Nandgaon's Nanda Bhawan take extra care to protect Shri Krishna and his family from the cold weather. 'Mithi Khichdi' (a sweet preparation of rice and lentils) made with generous amounts of saffron, 'kasturi' and nuts is served to the lordships throughout the season. With the onset of 'Agahan Maas', Thakurji is given saffron and kasturi 'paan beeda' (betel leaf and betel nut mouth freshener) after meals.
In Baldeo's Dauji Temple, Dauji and His consort Revathi are given special 'kheer' (rice pudding) in the afternoon and warm milk with nuts at night.
One of the most vibrant 'khichdi festivals' of Vrindavan is celebrated by the Radhavallabh temple, where Thakurji wears different disguises called 'Chadm Bhesh' after 'Mangla Aarti' every day for 40-45 days. Dressed as a bangle seller, fruit vendor or sometimes as a 'sakhi' he ventures out to meet Radharani in Barsana. The 'Chadm Bhesh' helps Him in deceiving Jatila and Kutila in order to get the association of Shrimati Radharani. Daily three four darshans are given in the interval of 5 – 7 minutes.
Despite the deepening cold, devotees flock to the temple every day to enjoy the special darshan of their Beloveds, while hoping to get a taste of His 'khichdi prasad'. Shri Radhavallabh savours the 'khichdi' bhog while basking in the warmth from a silver 'angithi'. On 'Makar Sankranti' dried fruits, saffron and nuts are an important part of the offering.
Thakurji's 'khichdi' is cooked by the Goswamis. It is very dear to Him as it warms the innards during the cold season. The 'khichdi' is distributed to the devotees after He has partaken of it.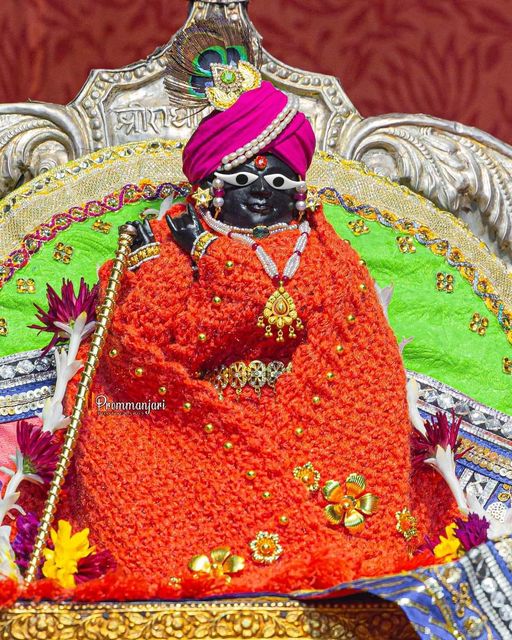 The ingredients of the 'khichdi' include super fine rice meticulously cleaned, moong dal – one of the earliest lentils described in ancient scriptures of India, rock salt (sainda namak), white pepper, cumin seed, nutmeg, cloves, green and black cardamom, cinnamon, mace (javitri), bay leaves (tej patta), cashew nuts, raisins, almonds, pistachio, coconut, dates and saffron.
The finished preparation is enriched with the sumptuous addition of ghee (clarified butter), and it is this practice which popularised the saying 'khichdi, ghee ki nichudi' about Shri Radhavallabh's Khichdi Bhog.
The 'khichdi bhog' is served along with 'sandane' (pickles of various types prepared without mustard oil), 'basundhi' (a preparation of concentrated milk), and 'adrak koocha' (ginger sauce).
The last preparation is a delicacy whose exact recipe is a strictly guarded secret, and it is available only to a few blessed devotees during this festival as 'prasad'. The 'adrak koocha' consists of ginger well cleaned and ground on a stone mortar with a stone pestle along with black salt, rock salt, sloes (aloo bukhara), pomegranate seeds (anar dana), black currants (mungaa), black pepper, cumin seeds and some other ingredients that have digestive properties. It is prepared under hygienic condition (both spiritual and physical hygiene) in utensils made of metals that are most suitable for health.
The foods offered to the Lord have a close relation to health. In fact, some western university research scholars have been trying to study how 'kadhi' and other vegetables offered at the Radhavallabh Temple are enriched with iron, which fights diseases such as anaemia.
From flavors to musical notes
There's no season, no tradition in Braj-Vrindavan which is not sung! Great saints from the veritable sampradayas of Braj have immortalised the many beautiful rituals and customs of this land in their lyrical 'padas' (verses).
This song by Shri Gunamanjari Das Goswami of Shri Radharaman Temple describes the scene where Thakurji is enjoying His 'Khichdi Bhog'…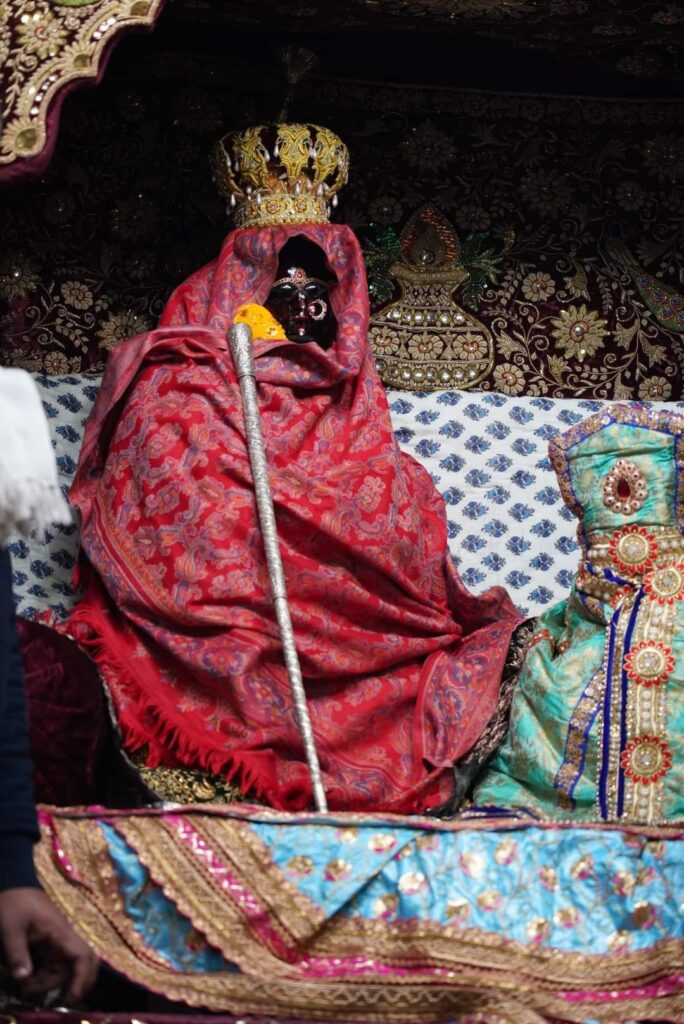 खिचरी सहचरी प्रात राधिकारमणजी को ।
सुरभी को घृत डार थार आगे लाई ॥
कचौरी अचार चार साग धरे तापर ।
पापर कचरी दधि मोदक मलाई ॥
मीठी मीठी बात करें दीठी सों दीठी भरें ।
अँगीठी सुगंध धरें सीत बीत जाई॥
चौकी पे बैठै आन रूचि सों लगे खान । प्रान वराति सूँ अराति करत आई ॥
Shri Priyaji (Radharani) feeds Radharamanji delicious khichri soaked in cow ghee, with fried kachoris (wheat rounds stuffed with spiced lentils), spicy pickles (achar) and four kinds of vegetable dishes, all accompanied by papad, wild cucumber (kachari), yoghurt and sweets. Gazing longingly into each other's lotus eyes, the lovers share sweet conversation whilst the coal stove gives fragrant warmth. Radharamanji sits on a low seat (chauki) and happily enjoys the luscious khichri. When He finishes, Yashoda Maiya offers her very life to Him in the form of aarti. (English translation from the book Shri Radharaman Gita)
Shri Radhavallabh's Khichdi Padas (verses)
​राधा प्राण-प्यारी संग रसिकबिहारी भोर, उठे चित्रसारी ते चले हैं भोग भौन कौं। फरगुल अढा़ई पै शीत अधिकाई महा, तब तौ रजाई एक रोक्यौ तासौं पौन कौं।। भीर घिचपिच री त्यौं गर्मतर खिचरी मिली, पाई घृत निचुरी लेत स्वाद कियौ गौन कौं। वृन्दावन' आरती निहारैं प्राण-वारती त्यौं, राग लै उचारती सखी लै तान तौन कौं।।
The 'pada' describes how Shrimati Radharani and Krishna relish their hot, spiced and 'ghee-dripping' 'khichdi' tucked inside the warm blanket during the wee hours of a cold winter morning. The 'aarti' and songs further add to their delight.