Braj turned green for Hariyali Teej celebrations
Braj turned green for Hariyali Teej celebrations
Devotees flocked to temples to see the deities swaying in gold and silver swings
Vrindavan, 2021-08-12 (Vrindavan Today News): The auspicious day of 'Hariyali Teej' which celebrates Shri Radha-Krishna's most endearing 'jhulan lila', was observed with great fervour in Braj yesterday. Devotees flocked to the temples to see their dearly loved deities swaying in jewelled gold and silver swings until late in the night.
Because Hariyali Teej is a festival dedicated especially to the womenfolk, Barsana's Ladliji Mandir becomes the cynosure of all eyes on this day. The deities of Vrishbhanunandini and Shri Krishna are brought outside in the 'jagmohan' from where They give 'darshan' while swaying on the palatial gold-silver swing. In the evening a 'shobhayatra' is organised to carry Radharani's 'dola' (palanquin) to the white canopy or 'chattri' in the foyer below. Unmarried girls of the Goswami families perform a special 'aarti', called 'aarta' for Her. Yesterday also marked the commencement of the 13-day swing festival at the temple.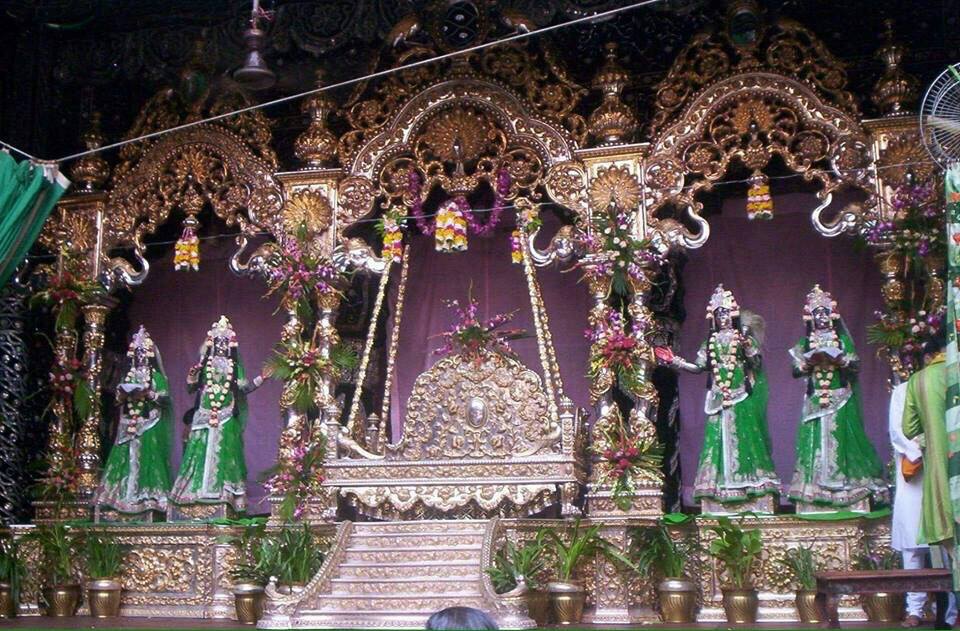 The magnificent swings, that are the special attraction on Hariyali Teej, have been in use since ancient times in most shrines of Braj. The one at Ladliji Mandir is nearly 100-year-old, and is brought outside only once in a year on this day. According to sevayat Raasbihari Goswami, it was commissioned by Seth Hargulal Beriwala on the request of the goswamis. Seth ji is also credited with renovating the temple when it was in a rundown state nearly a century ago.
Similar festivities and rituals were observed in other temples of Barsana such as Vrishbhanu Mandir, Dadi-Baba Mandir, Maan-Mandir, Mor Kuti, Daangarh, Vilasgarh, Kushalbihari, Shyama-Shyam and those Nandgaon, Gokul and Govardhan as well.
In Vrindavan, Banke Bihari blessed his devotees with a marathon 12-hour 'darshan' from 7.45 in the morning to 2.00 in the afternoon and evening 5.00 pm to 11.00 pm at night! Sumptuous delicacies including the season's favourite 'Malai Ghewar' and 'Feni' were offered as special festival 'bhog'. The tired Thakur retired for the day in a splendid 'shaiyya' (bed) furnished with cosy, scented satin linen.
Devotees lined up for special 'ghata', 'phool bangla' and 'hindola darshan' at Dwarkadhish, Keshav Dev, and Sri Krishna Janmasthan temples in Mathura. The evening 'bhajan sandhyas', where women and 'bhajan mandalis' sang 'malhaar' and 'hindola pad' for Thakurji, further enlivened the entire ambience.
At the ancient Deergh Vishnu Mandir, the day began with Bhagwan Vishnu and His consort Devi Lakshmi's 'abhiskek' which was performed amid the chanting of Vedic Mantras. Post the ritual bathing ceremony the divinities were dressed in light green, pearl-studded dresses. Special recitation of the 'Shri Suktam' and 'Lakshmi Suktam' were done to seek benedictions from Goddess Lakshmi.