Helicopter Services to be launched shortly from Mathura
Uttar Pradesh Cabinet Approves Helicopter Service Proposal for Mathura-Agra-Noida-Delhi Route on PPP Model
2023.07.01 (Vrindavan Today News): The Uttar Pradesh cabinet has approved a proposal to start a helicopter service from Mathura to Agra, Noida, and Delhi. The decision was made in a cabinet meeting chaired by Chief Minister Yogi Adityanath. The helicopter service will be carried out on a Public-Private Partnership (PPP) model.
The Mathura region, known as the birth and leela (pastimes) land of Lord Krishna, attracts millions of devotees every year, not only during important festivals but also on regular days. The Uttar Pradesh State Tourism Development Corporation conducted a trial of Heli-Parikrama during the Govardhan Parikrama at Mudiya Mela in2017. Devotees had the opportunity to circumambulate Govardhan by sitting on a helicopter. Since then, heli-parikramas have been conducted annually, with a few exceptions.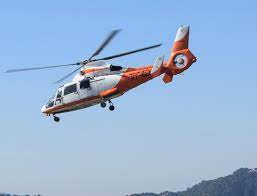 To establish the helicopter service as a permanent mode of transportation, the Tourism Development Corporation presented a proposal in the cabinet. The proposal has been accepted, and the State Tourism Corporation will initiate the tender process from Lucknow. After the tender, a company will be selected, and the helicopter service will commence from Mathura to various destinations in the country.
Passengers will have the option to travel by helicopter to Agra, Delhi, Noida, and other parts of the country. This service will be particularly beneficial for the elderly, sick, and pregnant women, and it is expected to help alleviate traffic congestion on the roads.
The helicopter service will operate from the helipad in Pentha village of Govardhan, which was constructed by the Public Works Department for the Tourism Development Corporation's helicopter service.
In a previous attempt to promote tourism in Vrindavan, a helicopter service by Pawan Hans was initiated in November 2012 between Delhi and Vrindavan. However, the service was discontinued within seven months, by June 2013, due to various reasons. It was reported that the lack of coordination between the Central and State governments led to the discontinuation of the project.
The newly approved helicopter service proposal in Mathura will now undergo a tendering process and company selection in Lucknow. The selected company will determine the service type and profitable routes for the air transportation.
D.K Sharma, the District Tourism Officer, expressed satisfaction with the approval of the proposal. He hopes that the helicopter service will provide devotees and tourists visiting the region with a convenient and efficient mode of transportation.
This article is sponsored by Pineridge Hotel, Darjeeling