Kartik Niyam Seva begins amid non-stop rain
Vrindavan and Radhakund are the places where most of the devotees stay for the entire month.
2022.10.09 (Vrindavan Today News): It has been raining non-stop for two days in Braj – Vrindavan, but the inconvenience caused by the rain and mud couldn't stop devotees visiting the different temples of Vrindavan on Sharad Purnima, the beginning of the holy month of Kartik.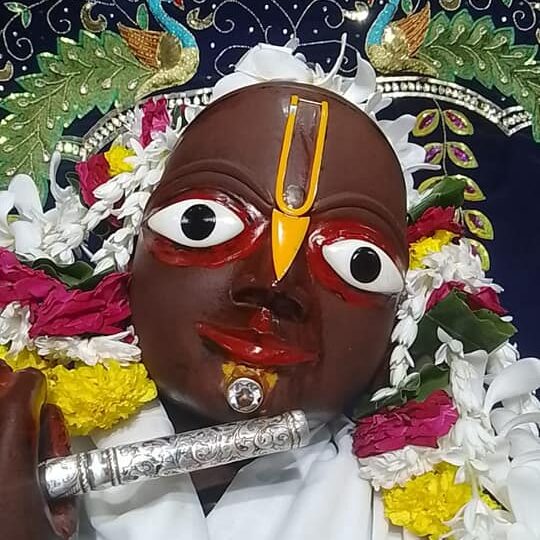 On Sharad Purnima, Kartik Niyam Seva begins for many devotees. Hundreds of thousands people came to Vrindavan to observe the month long austerity and penance during the Holy Month of Kartik.
Some ascetics began the forty days long Kartik austerity on Shukla Ekadashi. A large number of devotees have come from all around the world, gathered in Braj – Vrindavan to observe the sacred practices.
In Radhakund, the month long celebration began with the Adhivas Kirtan at Shri Raghunath Das Goswami Samadhi, and taking the holy dip in the Radha Kund. Talking to the media Shri Keshav Das ji, the Shri Mahant of Shri Raghunath Das Goswami Gaddi said, "By organizing the Adhivas Kirtan all the gods and associates of the Lord from the four yugas (ages) are invoked."
The devotees were seen singing and dancing by glorifying the Lord's name. Groups of devotees belonging from various ashrams and temples participate in the Nagar Sankirtan which passes through the markets and small lanes of Shri Dham Vrindavan and Radhakund.
Devotees offer lamps to the deities in the morning and in the evening during the aratis. They perform four rounds of Parikrama of the Damodar Mandir, resembling one full parikrama of the Govardhan hill. Many devotees take the vow of the daily parikrama of Shri Dham Vrindavan, Radhakund and the Govardhan Hill..
Niyam Seva is mostly observed by the Gaudiya sect of Vaishnavism. They follow strict rules like walking barefoot, cooking the food by own hands, bathing early morning reciting japas and sacred texts mark their love and devotion to the Lord and his consort. The Holy Month of Kartik is a special time of year when devotees come from all around India and the world to perform spiritual practices in Vrindavan.
"Although Kartik month is here on earth, and Kartik month comes every year, what a tragedy that some people still do not come to Vrindavan during Kartik, and remain suffering in the ocean of birth and death. (Hari Bhakti Vilas 16.162, quoting the Padma Purana).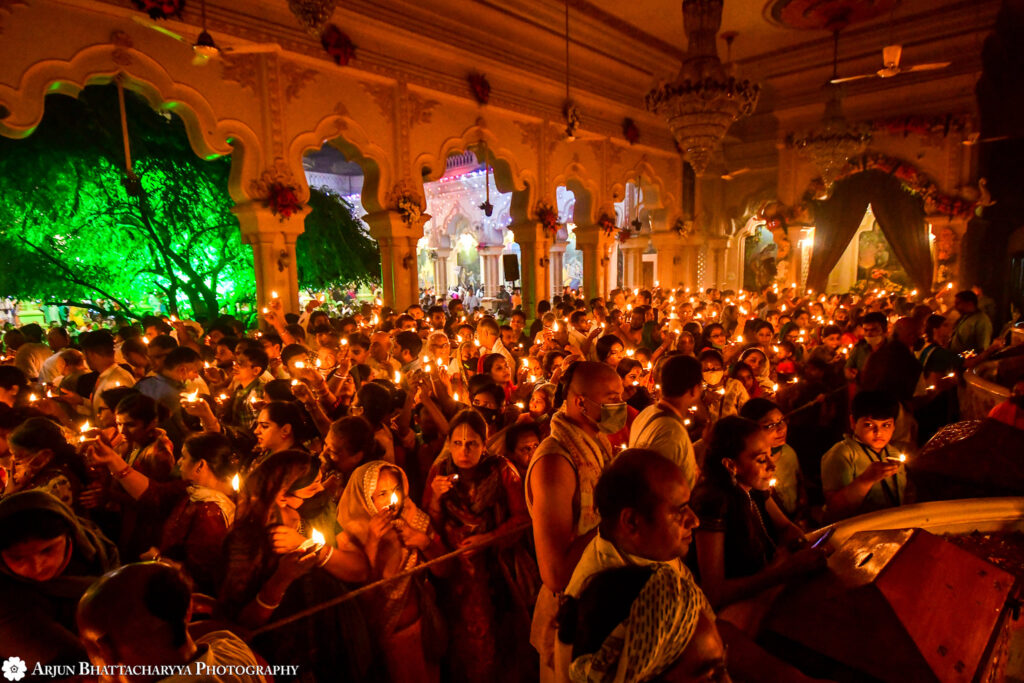 The scriptures are full of praise for the month of Kartik. The Skanda Purana says na kartika samo maso – there is no month equal to Kartik. The Padma Purana further states, "Of all the twelve months, Kartik is the dearest to Shri Krishna. Know it to be certain that if someone worships him even a little during this month, the Lord grants that person entrance in the eternal home."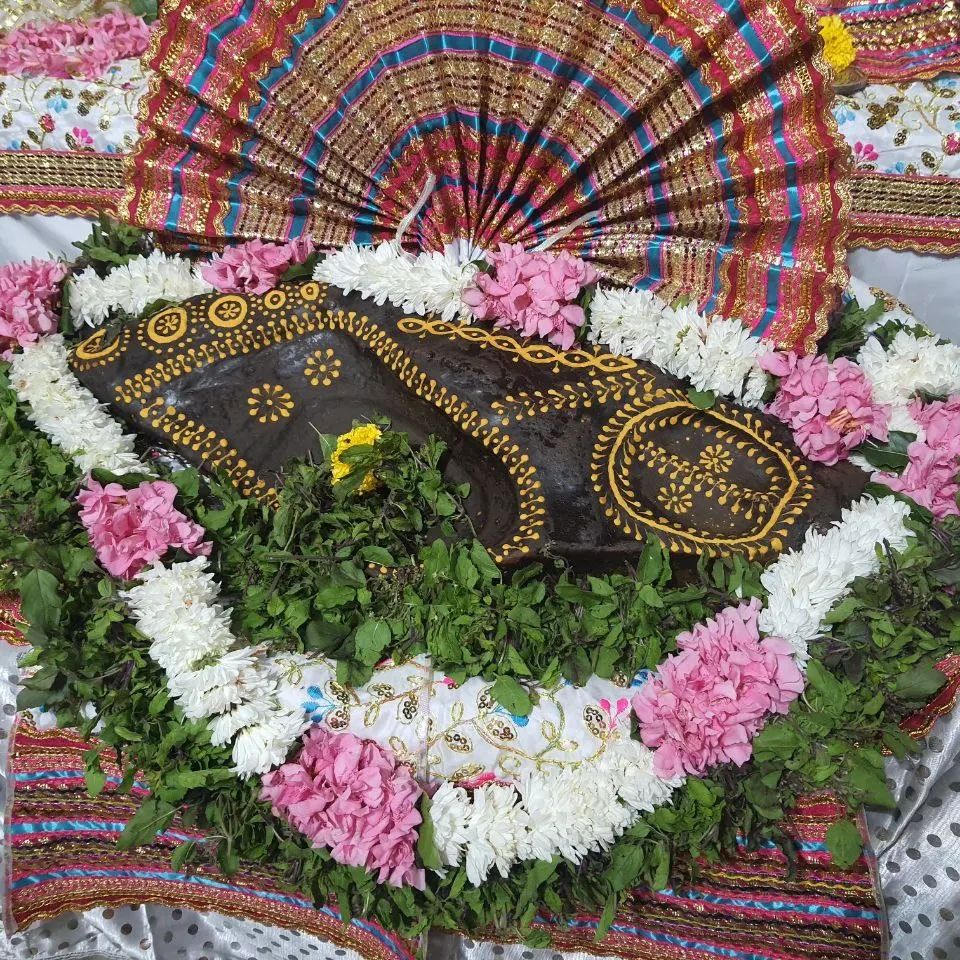 Niyam Seva: Special practices during Kartik month of resolutions – known as Niyam Seva. Many devotees begin the Niayam Seva on Ekadashi, whilst other begin on Sharad Purnima. There are a number of scriptural recommendations for this month, which include:
"Worshipping Radha – Damodar: Krishna who is bound by love with his beloved Shri Radha".
Deep Daan – Offering of a ghee lamp
Chanting "Damodarashtakam"
Giving Charity
Bathing in holy waters like Yamuna and Radha Kund
Planting Tulsi
Govardhan Parikrama
Performing Jaagaran (Staying up all night) whilst singing kirtan
Giving up certain foods and spices
Fasting on Ekadashi
General increased spiritual practice
Although the resolution differs from person to person, deep daan – offering a ghee lamp is generally performed by all. The Padma Puran states "Just as one gets fire by rubbing two sticks together, one gets the benefit of Kartik vrat by offering a ghee lamp to Shri Krishna." (quoted in Hari Bhakti Vilas).
The Mouse who offered a lamp in Kartik:
In Kartik Mahatmya of Padma Puran, the story is told of a mouse who attained the eternal Dham by offering a lamp during Kartik. The mouse lived in a temple. One day feeling very hungry, she tried to eat ghee from the lamp which someone offered to Krishna.
The lamp was still burning, and unfortunately the wick got stuck in her teeth. She began to leap about in pain in front of the deity of Shri Krishna. She died from the fire, but the Lord accepted her writhing about as aarti, and thus granted place in His eternal home.
Upcoming festivals in Kartik
Papankusha Ekadashi (Ashwin Shukla Ekadashi): The last Ekadashi of Kartik marks the beginning of Niyam Seva for many devotees. Many people observe this ekadahsi in the traditional way by fasting and staying awake all night singing kirtan. In 2022, this festival is being celebrated on October 6th.
Sharad Purnima (Ashwin Purnima): Sharad Purnima is the day when the Sharadiya Ras Lila began. The Divine Couple of Shri Radha and Krishna is dressed in white, like the light of the full moon. Special sweet of Makhane ki Kheer and Chandrakala are offered in Vrindavan temples. The Braj 84 kos Parikrama begins from Maan Mandir of Barsana on this day.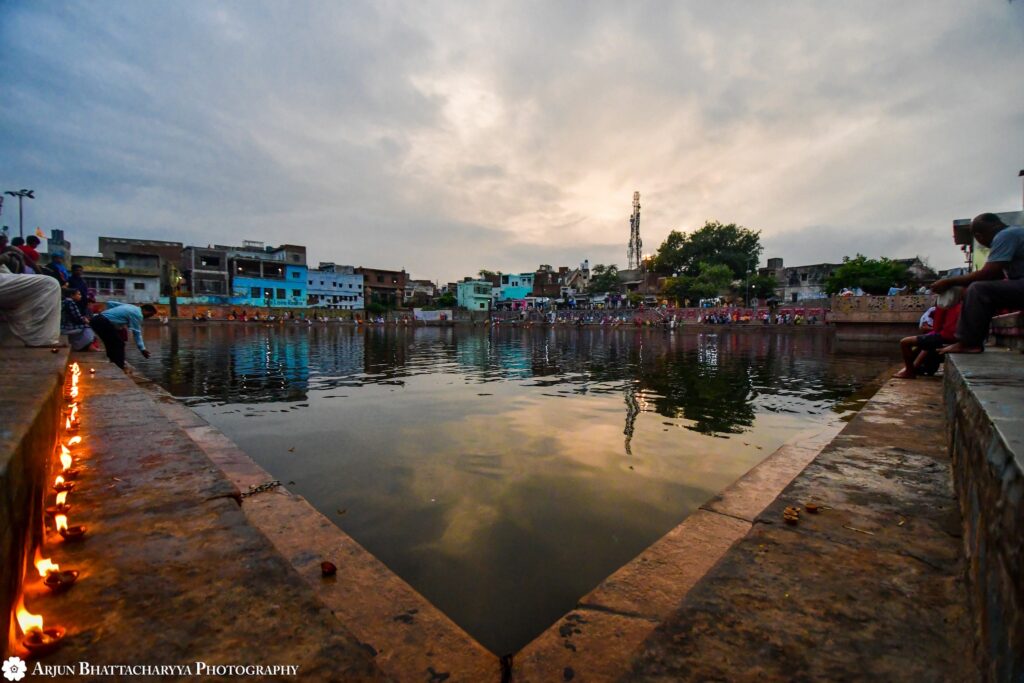 Karwa Chauth (Kartik Krishna Chaturthi): Married woman keep a fast for their husbands and worship the Moon god. They break the fast only after having darshan of the moon. This year Karwa Chauth is observed on 13.10.2022 (Thursday).
Bahulashtami (Kartik Krishna Ashtami): Bahulashtami is the day when Radha kund appeared in this world. After Krishna killed the bull demon, Radharani teased Him that he had incurred the sin of cow killing and never touch her again until he bathed in every holy place in the world. Krishna immediately brought all the holy waters into a single lake and bathed in it. Radha and the Gopis felt irritated by this, and so they decided to make their own lake by doffing in the ground with the bangles and filling the hole with water from Mansi Ganga. When the project proved troublesome, Radha allowed Krishna to use water from his lake to fill hers. Thus Radha kund and Shyam Kund were formed. On this day, thousands of people take bath in Radha Kund at midnight. This day is also known as Ahoi Ashtami, a special day for the mothers and children. Around this time, people who desire to have children make a vow to give up a certain fruit or vegetable for one year, then offer that same fruit to Radha Kund. Most people choose to give up petha, as it is not popular anyway. Thus one can find the strange sight of Radhakund full of Pethas wrapped in red cloth during the week of Ahoi Ashtami. This year Bahulashtami falls on 17 October, 2022 (Monday).
Ramaa Ekadashi (Kartik Krishna Ekadashi): The first Ekadashi of Kartik is Ramaa Ekadashi. Manuy people try to observe this Ekadashi in the traditional way by fasting and staying awake all night singing kirtan. This year Rama Ekadashi falls on 21st October,2022 (Friday)
Dhan Teras (Kartik Krishna 13): This is the appearance day of Lord Dhanwantary and the part of Diwali celebrations. In Shri Radharaman Temple, Shri Radharaman Temple, Shri Radha and Krishna play chaupar – an ancient board game resembling Parcheesi or ludo – through their attendant Goswamis. Ghee lamps are offered to Yamraj on the following day of Narak Chaturdashi. This year Dhan Teras falls on 23rd October, Sunday.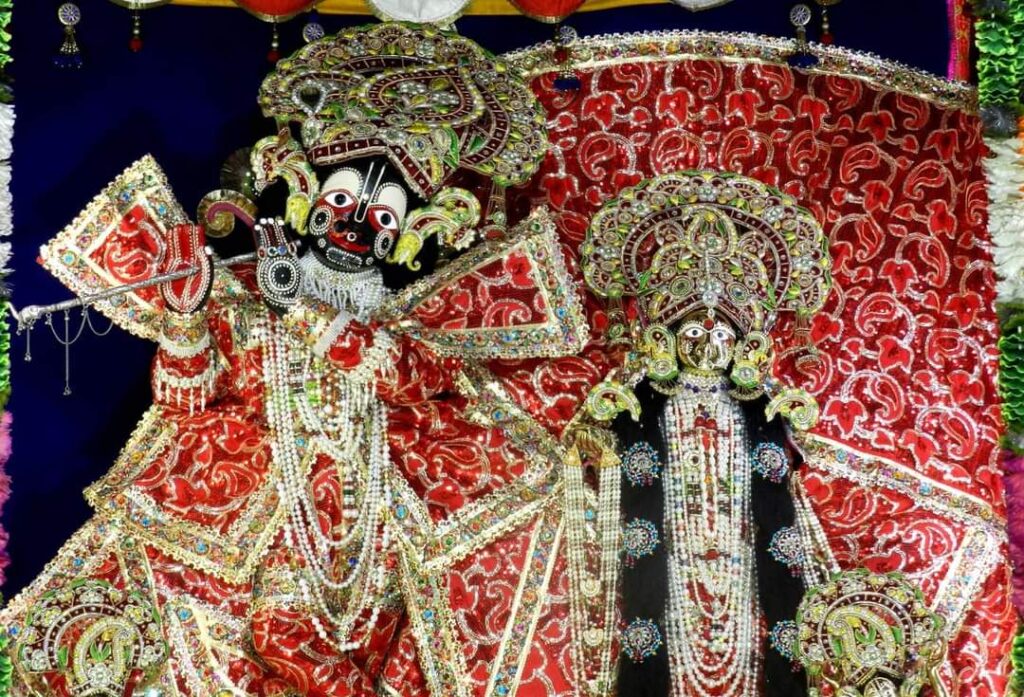 Diwali (Kartik Amavasya): Also known as Deepawali, is the day Shri Ram and Sita returned to Ayodhya. The day is celebrated in Braj with the lighting of firecrackers. Homes, temples and banks of holy lakes are filled with shining ghee lamps. Brajwasis deep clean their homes and re-paint them. This year Diwali falls on 24th October, 2022 (Monday).
Gopashtami (Kartik Shukla 8): This day celebrates the first time the child Krishna was allowed to herd full grown cows. Shri Krishna is dressed in a cow herding outfit complete with cow herding stick, lasso and buffalo horn bugle. In some temples, Radharani is also playfully dressed as a cowherd boy on this day. This Year Gopashtami takes place on 1st November, Tuesday.
Govardhan Puja / Annakut (Kartik Shukla 1): On this day, Govardhan Hill is worshipped and offered a mountain of delicious food. Millions of people flock to perform Govardhan Parikrama. Local children build Govardhan Baba – a mini version of Govardhan Hill – out of cow dung . Govardhan Baba is also formed in the courtyards of temples. This year Govardhan Puja falls on 25th October, 2022 (Tuesday).
Bhaiya Dooj / Yam Dwitiya (Kartik Shukla 2): This is the appearance day of Yamraj, the god of death and the brother of Yamuna Devi. On this day, sisters honor their brothers and bathe together in the Yamuna river at Vishram Ghat in Mathura. This year Yam Dwitiya takes place on 26th October, 2022.
Yugal Parikrama / Akshaya Navami (Kartik Shukla 9): On this day the devotees perform the combined Parikrama of Mathura and Vrindavan. This year Akshaya Navami falls on 2nd November, 2022, Wednesday.
Devotthan Ekadashi (Kartik Shukla 11): On the last Ekadashi of Karrtik, the gods wake up from their four months sleep during Chaturmasya. Brajwasis celebrate by making a teepee type structure (minus the cloth) out of sugarcane branches. Seasonal fruits and vegetable are offered inside the structure . Many people try to observe this Ekadashi in traditional way by fasting and staying awake all night singing kirtan. This year the Devotthan Ekadashi falls on 3rd November, 2022.
Raas Purnima (Kartiki Purnima): On the last night of Kartik, Shri Krishna dances the Raas Lila with Shri Radha and the Gopis. This is also Nimbark Jayanti – the appearance day of Nimbarkacharya. On this day Shri Chaitanya Mahaprabhu entered Vrindavan for the first time. For Nimbark Jayanti, a special procession goes out in the evening from Nimbark Kot, while the celebration of Chaitanya's Braj Yatra, another procession goes out from the Amiya Nimai Temple in Gopinath Bazar at 4 pm and continues until midnight. This year the Kartik Purnima falls on 8th November, Tuesday.
Mangala Darshan schedule of the Sapta Develaya temples of Vrindavan
Shri Damodar temple: 4.15 am
Shri Govinda Dev temple: 4.30 am
Shri Radharaman temple: 4.30 am
Shri Shyam Sundar Temple: 3.30 am
Shri Gokulananda Temple: 5:00 am
Shri Madan Mohan Temple: 5.00 am
Shri Gopinath ju temple: 5.00 am