Radharani Braj Yatra of Maan Mandir commences today
The Yatra begins on 9th October and ends on 13th November
Read the full article for its schedule in different pilgrimage locations
2022.10.09 (Vrindavan Today News): The Pilgrimage to all the lila-sthalis or the centers of pastimes of Shri Krishna and His associates in Braj is known as Braj 84 Kos Yatra. It is believed that anyone performing this Yatra attains 'Moksha', free from the cycle of birth and death.
The Yatra is taken out by different religious leaders or the Tirtha Purohits from Mathura, Vrindavan, Gokul and Barsana.
These days the Braj Yatras are mostly organized on the cars and buses for the sake of convenience. Every day they return to the centre from where they go for daily yatra. But there are pilgrims who still prefer the traditional way of doing it. They perform the parikrama by walking, despite the strain and hardships in undertaking the Yatra.
The most devout pilgrims undertake this Yatra on foot which takes about a month or more to complete the entire distance of roughly 350 kilometers.
The Maan Mandir Seva Sansthan of Barsana is one of the few groups which organize the Braj Yatra in the traditional way. The Yatra is organized every year from Maan Mandir in which thousands of pilgrims from across the country participate. Every year the Radharani Braj Yatra of Maan Mandir commences from the auspicious day of Sharad Purnima.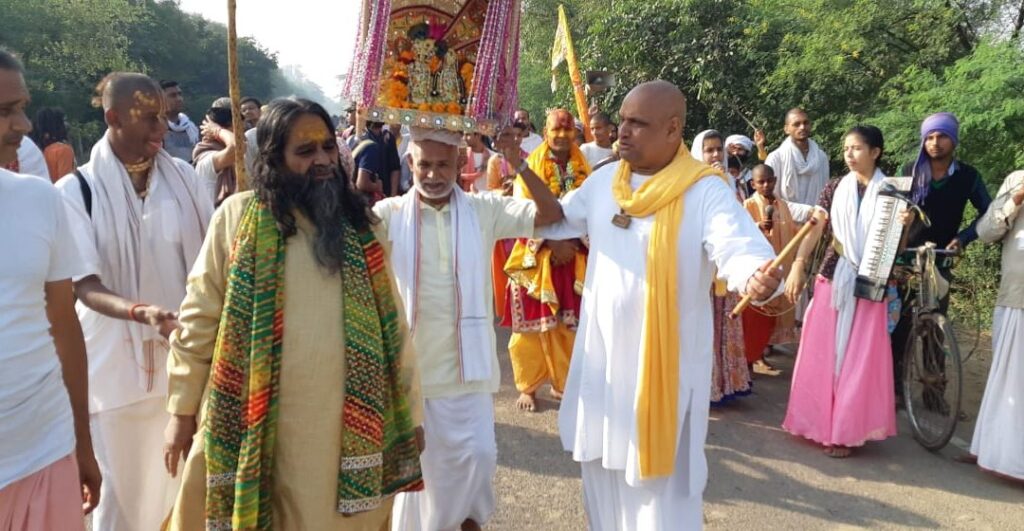 Amid the weather disturbance and constant raining, the Radharani Braj Yatra commences. The schedule for the Yatra as follows:
09.10.2022 (Sunday) – Uncha Gaon, Lalita ji, Vyahula, Dehkund, Dauji , Tribeni, Sonokar, Davala, Suryakund, Naubari-Choubari, Ratnakund, Shyamshila, (Camp – Mataji Goushala Barsana)
10.10.2022 (Monday) – Mangarh, Kushal Bihari ji Mandir, Shriji Mandir, Dangadh, Morkuti, Sankrikhor, Vilasgadh, Gahavarvan, Gahavarkund, Shankhshila, Mahaprabhu Ballabhacharya Baithak (Camp – Mataji Goushala)
11.10.2022 (Tuesday) – Brahmanchal Parikrama, Brajeshwar Mahadev, Ravad van, Padarvan, Bhanukhar, Chitrasakhi, Maheshwari sar, Bihar kund, Dohni kund. (Camp- Mataji Goushala)
12.10.2022 (Wednesday) – Priya Kund, Gulab Sakhi Samadhi, Prem Sarovar, Sanket, Domil Van, Uddhav Kyari (Camp – Nandgaon)
13.10.2022 (Thursday) – Nandgaon Parikrama, Pavan Sarovar, Motikund, Mayur Kund, Ter Kadamb, Asheshwar Mahadev, Krishna Kund, Hau Bilau, Yashoda Kund, Nand Bag, Charan Pahari, Panihari Kund, Vrinda Devi (Camp – Nandgaon)
14.10.2022 (Friday) – Kokilavan, Pandav Ganga, Baithain Dauji Mandir, Charan Pahari, Kamar (Camp – Sirthara Road)
15.10.2022 (Saturday) – Mohan ji Mandir, Durvasa, Raasvan, Brajbhushan Mandir, Paramhans Mandir, Lal pur (Camp – Hadal Gadi)
16.10.2022 (Sunday) – Hodal, Highway, Khirbi, Siddhbaba Mandir (camp – Bhiduki)
17.10.2022 (Monday) – Basva, Vishnu Mandir, Prahlad Kund, Ksheer Sagar, Shesh Sayi Mandir, Barkha, (Camp – Dhanouta)
18.10.2022 – Roop Nagar, Buddhgadhi, Ful gadhi, Shernagar, Majhoi, Badha, Rampur, (Camp – Ujhani)
19.10.2022 – Basai Mouni Baba Mandir, Shergadh, Khelan Van, Parikrama, Aincha Dauji, Vihar Van. (Camp – Vihar Van)
20.10.2022 – Bhimagadhi, Kasrot, Akshayvat, Tapovan, Cheer Ghat, Mahaprabhu ji ki Vaithak, Katyayani Mandir (Camp – Gangroli)
21. 10.2022 – Nandghat, Basai, Mai, Sehi, Bachvan, Balhara, Radha Rasbihari Mandir Rasoli, Yamuna ji (Camp – Balhara)
22.10.2022 – Vanshivat, Bhandir Van (Camp – Bhandir Van)
23.10.2022 – Maant, Begumpur, Belvan (Camp – Belvan)
24. 10.2022 – Begumpur, Radharani Mansarovar, Paanigaon, Jagannath Ghat (Camp – Vrindavan)
25. 10.2022 – Vrindavan Parikrama (Camp – Vrindavan)
26.10.2022 – Darshan of prominent temples of Vrindavan (Camp – Vrindavan)
27.10.2022 – Panigaon bridge, Yashoda Kund, Mavli, Lohvan, Nagla Dheena, Sihora (Camp – Karav)
28.10.2022 – Karav, Bandi –Anandi, Choli, Baldev Dauji (Camp – Dauji)
29.10.2022 – Dauji, Khadeda, Haveli, Basai, Hardasa, Rinmochan (Camp – Chintaharan)
30.10.2022 – Brahmand Ghat, Mahavan Chourasi Khamba, Ramanreti, Raskhan Samadhi, Goptalaiya, Gokul, Chandravali, Radharani (Camp – Raval)
31.10.2022 – Laxmi Nagar Yamuna bridge, Rangeshwar Mandir (Camp – Maholi Madhuvan)
01.11.2022 – Dhruv Teela, Krishna Kund, Madhuvan, Taal Van, Kumud Van, Usfar (Camp – Nowgaon)
02.11.2022 – Shantanu Kund, Bakhalpur, Ganeshara, Khenchri (Camp – Bati)
03.11.2022 – Raal, Julhendi, Surya Kund, Basauti, Mukhrai Mode (Camp – Mukhrai)
04.11.2022 – Jamunavata, Parasouli, Chandra Sarovar, Paintha (Camp – Poochri)
05.11.2022 – Govardhan Parikrama (Camp – Poonchri)
06.11.2022 – Shyam Dham, Suryakund, Samai (Camp – Umra)
07.11.2022 – Nagla Fouzdar, Nagla Chahar, Deeg, Radha Krishna Mandir, Mahamadpur (Camp – Tankoli)
08.11.2022- Guhana, Budhe Badri, Jadkhor, Palwada (Camp – Khoh)
09.11.2022 – Neel ghati, Kadamkhandi, Alipore, Hirankhoyi, Devsarovar, Gangotri, Yamunotri, Har ki paudi, Haridwar (Camp – Adi Badri)
10.11.2022 – Alipore, Pasopa, Barauli, Dhau (Camp – Kedar Nath)
11.11.2022 – Lesar, Charanpahadi, Lukluk Kund, Gaya Kund (Camp – Kama)
12.11.2022 – Kamyvan Parikrama and Darshan (Camp – Kama)
13.11.2022 – Kanwada, Kadamb Khandi, Sunhaara, Barsana, Maan Mandir (Camp – Barsana)