Meet Anunaya Jha: The 'Enterprising Municipal Commissioner' of Smart Cities Mathura-Vrindavan
By Ashee Sharma
2021.12.26 (Vrindavan Today News): Anunaya Jha, the young and dynamic municipal commissioner of Mathura-Vrindavan who assumed responsibility in early 2021 is quite unlike any of his predecessors. Jha talks of Mathura-Vrindavan as a CEO would describe his most ambitious project. His friendly demeanour, rational thinking and enthusiasm towards work and life in general are clearly evident in all his interactions.
Hailing from Deoghar Jharkhand, Jha (IAS, Batch 2015) was inspired by his maternal grandfather – an IPS officer, and his father Shri Nityanand Mishra (IRS ) to take up civil services. His mother Alka Jha is currently a board member at India Post. After completing his schooling from Sanskriti School in Chanakyapuri, Delh, Jha studied electrical engineering at IIT Roorkee in 2012. Having realized the power and importance of civil services while working on a World Bank project he decided to prepare for UPSC. Having secured 145th place in the first attempt (2013) Jha took up IRS. He kept persevering for IPS simultaneously. His efforts paid off fetching him 57th rank in 2014.
Jha's journey started from Mathura, serving as an assistant RO during the 2017 UP assembly elections. In 2017 he became the SDM of Jhansi and was also the special duty officer in the Jhansi Development Authority. His next assignment came in 2019 as Chief Development Officer of Aligarh. In the year 2021, he was given the responsibility of Municipal Commissioner in Mathura-Vrindavan Municipality, the position he currently holds. We at Vrindavan Today decided to meet Shri Anunaya Jha to know more about his plans and larger vision for the overall development of Mathura-Vrindavan. Following are snippets from the interaction where he discussed the on-ground realities in the light of challenges and opportunities that exist before him.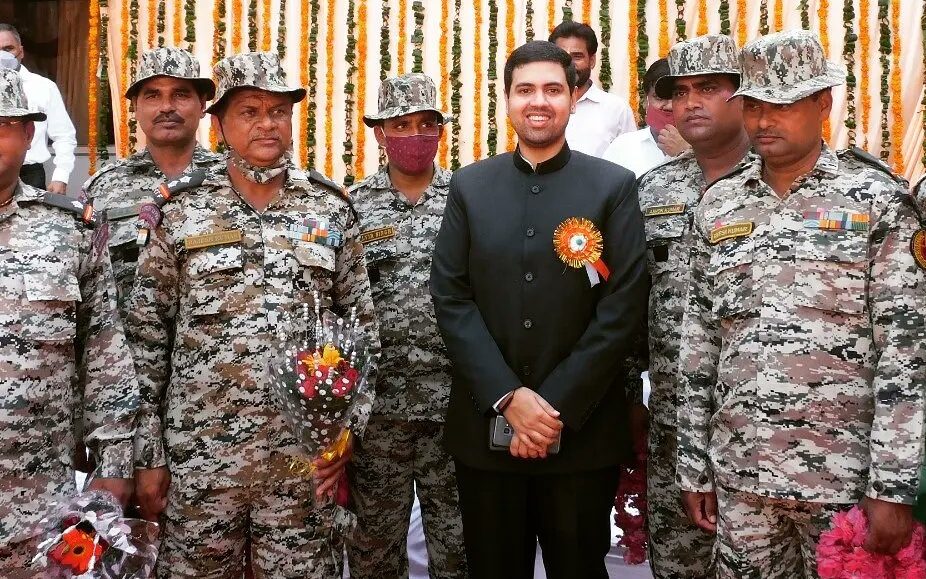 Edited Excerpts:
Q. Mathura just fell 25 places in the 'Swacchata Rankings'. What in your opinion was the reason behind it, and how do you plan to remediate the situation?
A. That happened due to two reasons. One was that the ground level work where we used to rank highly was not accounted for in the 2021 survey. The 25 per cent weightage given to 'direct observation' based on on-ground survey done by the Quality Council of India was not considered in the rankings this year.
Secondly door-to-door collection had to be stopped due to the Covid, leading to an adverse impact on the rankings that were worked out in Jan-Feb this year. We were able to resume collection in all wards only by June. So, this year we will do much better. In fact I am confident of securing the best-ever ranking for Mathura-Vrindavan in the upcoming survey.
Q. What are you doing to decentralize the garbage management system in Mathura-Vrindavan?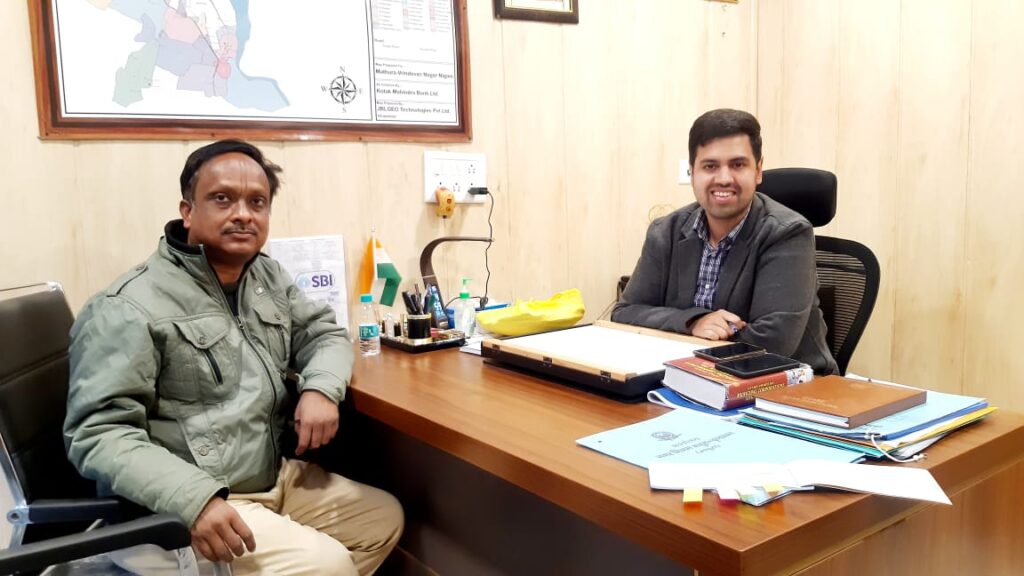 A. We have already embarked on a number of projects for decentralisation. For instance, in Vrindavan we started the MRF or Material Recovery Facility. The contract was put out to tender, and we expect work on it to begin soon. We have also floated the RFP for a Transfer Station where waste from Vrindavan will be taken for compaction. Supposing, we currently have 20 hopper tippers ferrying waste from Vrindavan to Nagla Kolhu, these 20 will now go the Transfer station where the waste will be compacted. Thereafter, transporting it will require only 5 hopper tippers which save us a lot of fuel and effort.
Further, a 5-tonne wet waste management plant has been installed in Vridnavan Mandi for converting organic waste from the busy market to manure. The plant is already functional. Among other initiatives, we are looking for a site in addition to Nagla Kohlu for solid waste management. That's part of the city development plan. Nagla Kolhu has reached saturation and therefore we had to start legacy waste remediation there without any delay. Since we began on October 23, we are proud to say that nearly 10-12000 of the 2, 60,000 tonne waste mountain at Nagla Kolhu has already been remediated.
There are a number of ways in which we are recycling waste. These include compost making where each tonne of compost is being sold for 311 rupees, RDF (Refuse Derived Fuel) and other derivatives used for construction of roads.
Q. How do you plan to increase participation by private players in waste disposal and management? There have been frequent complaints about lack of resources; what are you doing on that front?
A. We must keep in mind that this is just a four-year-old Nagar Nigam to which 51 villages were added in 2017 and another 20 in 2019. So, yes, there is bound to be some resource crunch, but we are actively working towards improving the situation. When this Nagar Nigam was made, we didn't have resources like the municipal corporation. For instance when I came in nine months back there were just 6 fogging machines; today we have 20 of them. Similarly, from 50, the number of garbage collection vans have gone up to 80. We have ordered new JCBs and tractors, and are also hiring drivers and helpers for them. So resource mobilisation and multiplication is happening, but we need to be patient. These teething issues are bound to crop up until the time we mature, though I can assure you that we are improving every year.
Q. Talking of the Yamuna, what are you doing to ensure that no waste is dumped in the river? Have the drains flowing into it been fully tapped yet? What is the status of work on the Kosi Drain?
A. There are about 35 drains in Nagar Nigam Mathura-Vrindavan right now, of which about half are tapped. As per the orders of the NGT, we are carrying out bioremediation for the others that are either partially tapped or untapped. A new 6.8 MLD STP was installed at Masani. The Laxmi Nagar STP has been upgraded to a capacity of 30 MLD. According to the Jal Nigam which is managing these initiatives under the Namami Gange Project, 31 out of the 35-odd drains will be tapped by January 2022, with bioremediation continuing for the rest.
For the 3 drains in Vrindavan we are planning to have a new STP, the proposal for funding which has been submitted to the Government of India last September. We are waiting for approval on the same. Another PFR (Pre-feasibility Report) for construction of new STP for Kosi drain management has also been submitted.
Q. Vrindavan recorded its worst AQI (Air Quality Index) in years just a couple of months back. Are you implementing any measures to check air pollution in the town?
A. Unfortunately there's little control we have on the two main factors contributing to air pollution in Vrindavan – regular vehicular emission and the problem of 'temperature inversion'. Temperature inversion is a scientific phenomenon which happens in all places located along water bodies wherein hot air gets trapped along with all the pollution inside the city. When we talk of pollution, every day 1600 cars come to Vrindavan along the Yamuna Expressway-100-bed hospital route alone. These are the biggest contributing factors. There's not much stubble burning or construction happening in Vrindavan, and not too many generators being used for extended periods either. Once we begin the electric bus service, there will be some relief on this front.
Q. When can we expect electric bus service in Mathura-Vrindavan to begin?
A. It will be inaugurated by the honourable PM or CM shortly. 50 electric buses will run between all major destinations in Mathura-Vrindavan. They will also connect Govardhan, Raya, Mahavan and other smaller towns to the two cities.
Q. What are the other initiatives being taken for city development?
A. Nagar Nigam is working to the best of its ability on various initiatives under the smart city project. The new integrated traffic management system that will be implemented at 21 junctions is expected to go live at 8 places in Mathura-Vrindavan this month itself. Among other things the pathway from the multilevel car parking coming up in Vrindavan to Raman Reti Police Chowki will be developed as a 'smart road'. There are also plans for constructing a foot-over bridge near Prem Mandir, making the entire area no-parking zone and having dedicated vending zones which is going to require the widening of roads.
Q. What's being done to tackle the monkey menace and other problems caused by stray animals?
A. Since we had permission to remove only 2000 monkeys, we decided to focus on tourist areas like Dwarkadhish, Krishna Janmbhumi, Nidhivan and Banke Bihari first. We have now sought fresh permission from the forest department. It might interest you to know that the Department is also working on a proposal for a monkey rescue centre.
Last month we sent 565 stray cattle from Mathura-Vrindavan to Raal Gaushala. There are around 1400 of them in our Gaushalas in Vrindavan right now. We are also seeking help from private players in this regard.
As for pigs on the parikrama marg, we have identified people who domesticate them in the nearby Balmiki Basti. They have been warned of strict action if found letting these animals free on the streets.