Police to uncover the gang issued threat to Aniruddhacharya
2023.04.08 (Vrindavan Today News): In a significant development, the police have identified the person who issued a threat to Bhagwatacharya Aniruddhacharya Maharaj, a prominent preacher of Vedic Sanatan Dharma, and have solid clues in the matter. According to a report the police can disclose the matter anytime.
The threatening letter was received on April 4th at the ashram of Aniruddhacharya, located on the Parikrama Marg, in Vrindavan. The letter demanded a sum of Rupees One Crore to be paid within a week on receipt of the letter. It further warned that failing to pay the amount will meet serious consequences including the blowing up of his ashram, Go Gauri Gopal Dham.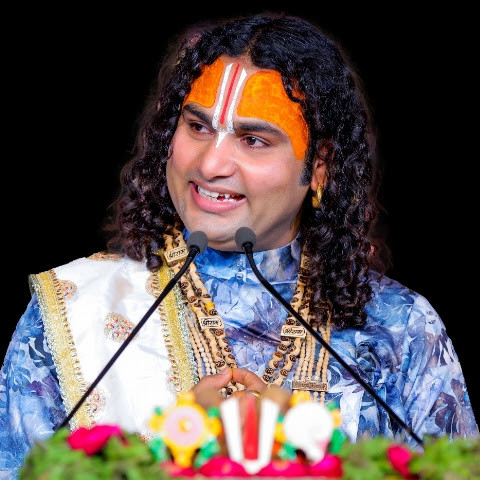 A complaint was filed with the Vrindavan police that stated that a terrorist organization had threatened to kill Aniruddhacharya Maharaj if the amount was not paid. The threatening letter had claimed that five of their armed men were keeping an eye on his movements and that of his family members.
Rohit Tiwari, a resident of Gauri Gopal Ashram, had lodged the report in this regard. In the report, it had been mentioned that Aniruddhacharya Maharaj is a Bhagavat katha vachak by profession and a preacher of Vedic Sanatan Dharma, which is not being liked by the heretics. Due to this, he had also received threats on the phone several times.
After registering the case, the police took swift action and started an investigation. The Intelligence Department searched the CCTV cameras installed in the ashram, which helped the police identify the person who sent the threatening letter and are expected to disclose further details soon.
It is relevant to note that threats to religious leaders are not new, and saints and the religious leaders have been receiving such threats in the past as well. In April 2019, Devkinandan Maharaj received a letter in the name of a Muslim organization, threatening him with mass genocide and death due to the promotion of Hindutva. In 2018, a person threatened to cut Devkinandan Maharaj into pieces in a video.
In April 2022, a Mumbai resident named Wasim threatened to burn Devkinandan Maharaj alive over the phone from Dubai. Later in December 2022, Devkinandan Maharaj's personal number was called from Saudi Arabia, threatening to bomb him if he went to Mumbai. In the same year, Mahamandaleshwar Dharmendra Giri Goswami was threatened with a bomb by Al Qaeda.
The incident has once again highlighted the need for the authorities to take necessary steps to ensure the safety and security of religious leaders who preach and promote Sanatan Dharma.