Meet the Muslim Brajwasi families celebrating Nandotsav since 127 years
The families have been engaged in Nandotsav Badhai Gayan for generations
Vrindavan, 2021-08-31 (Vrindavan Today News): Mathura erupted in the joy of Krishna's birth last night; today is Gokul's turn to celebrate the coming of 'Nandlal'. Nadotsav in Braj is marked by festivities like no other. Deities, devotees, animals, trees and even streets and buildings in Braj cannot escape getting drenched in this downpour of bliss and enjoyment. Kanha's grace knows no difference, after all!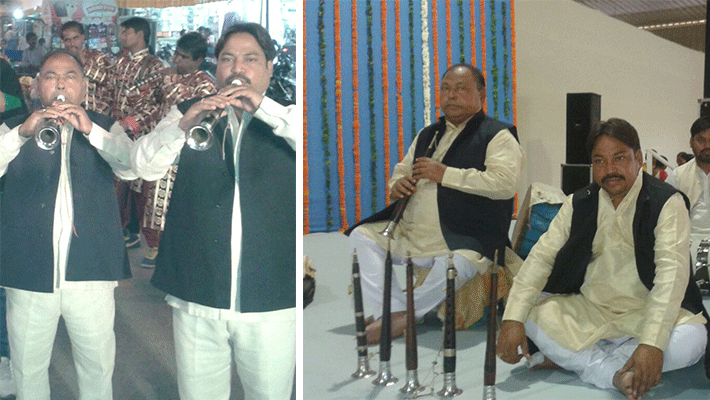 Khuda Baksh Babulal – a resident of Ramnagar on the far side of the Jamuna – and his family have been an inalienable part of Nandotsav celebrations since 127 years. The Muslim Brajwasi household, including everyone from the elders to small kids, has been abuzz with preparations for the festival. Khuda Baksh is the descendant of Hoti Khan who used to sing 'Badhai Gayan' to the tunes of Shehnai (a clarinet typical to the Indian subcontinent) and Nagada (drum) on the day of Nandotsav in Gokul. His successors have kept the beautiful tradition alive for more than a century now; Khuda Baksh Babulal belongs to the eighth generation.
Baksh and his team of 25 reached Gokul on Tuesday morning at 7:00 am. Beginning with Nandbhavan, they will perform Badhai Gayan at Raja Thakur Mandir, Gokulnath Mandir, and Morwala Mandir among others.
Through the years, Hoti Khan and his successors were joined by several other Muslim families such as that of Lakkhu Khan. Another troupe is that of Asgar Khan, Akeel, Chote Babu and Anees. They are part of the 'Shehnai Band'. Band leader Asgar Khan shares that in the olden times Badhai Gayan was sung to the accompaniment of traditional musical instruments such as 'dhol', 'Nagada', 'Manjeera' and 'Jhaanj'. Then the harmonium came along.
Khan is not just happy to be part of this tradition, but he feels immensely fortunate and proud to be in the service of Krishna. In addition to the customary Badhai Padas, he, his family, and his troupe have also prepared some fresh and delightful 'rasiyas' for the occasion. (VT)