Braj gears up for Janmashtami celebrations starting 29 August
Here's what to expect during the three days of festivities…
Vrindavan, 2021-08-20 (Vrindavan Today News): With the lifting of covid restrictions in Uttar Pradesh, Braj is gearing up for a spirited and grand Janmashtami once again. Devotees are looking forward to the three-day festivities beginning August 29. Janmashtami will be observed on August 30, and the following day (August 31) will be celebrated as Nandotsav.
At the Nandbaba Temple situated atop Nandishwar Hill in Nandgaon, afternoon (12 pm) and evening (8.30 pm) 'Badhai' and 'Samaj Gayan' are being held every day since Shravan Purnima.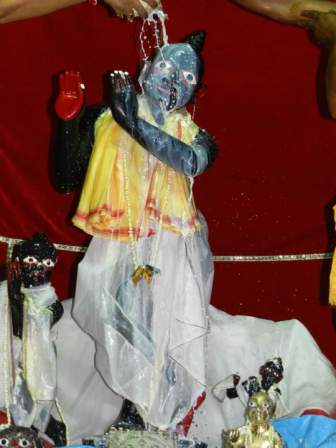 In lieu of the huge crowds expected this year, Vrindavan's Banke Bihari temple is tightening security and safety rules, in addition to making arrangements for the year's biggest event. Order bookings for milk, curd and other requirements for the 'maha-abhishek' on 30th midnight are already in place. At 2:00 am Thakurji will give the most awaited once-in-a-year 'mangala aarti darshan' to His devotees while swaying gently in a gold and silver cradle.
In order to ensure effective crowd management, one-way entry/exit will be implemented wherein people coming from Vidyapeeth Circle and Banke Bihari Police Station will be allowed in through gate no. 3 and those from Parikrama Marg and VIP Road will be given access through gate no.2. Gate numbers 1 and 4 have been reserved for exit, and no.5 for emergency and for the temple Goswamis.
At the Radharaman, Shahji and Radhadamodar temples 'maha-abhishek' will be performed at 9.30 am on 30 August.
Thanks to the relaxation in rules, the doors of Mathura's Dwarkadhish temple are now open for darshan of all the eight jhankis from 23 August. These include Mangala (6.30 -7 am), Shringaar (7.40-7.55 am), Gwaal (8.25 – 8.40 am) and Rajbhog (10-11 am) in the morning and Utthapan (4 – 4.20 pm), Bhog (4.45 – 5.05), Sandhya (5.20 – 5.40 pm) and Shayan (6 -7 pm) in the evening. However, special darshans will be given on Janmashtami.
Temples, homes and markets Braj are bustling with people scurrying through shops lined with colorful poshaks and other paraphernalia. Riding high on the country's success at the recently concluded Tokyo 2020, Olympic-themed Janmashtami tableaux wherein Baal Gopal will be seen in a special look donning sports gear and English hats, are also being set up at various locations as a special attraction for kids. In addition to the ball, rattle toy, flute and 'daph' that are Thakurji's traditional companions, this year He will be seen playing with badminton, javelin, chess, cricket bat, and carrom board as well.
On the administrative front, special efforts are being made in anticipation of the CM's visit which is yet to be confirmed. The Municipal Corporation recently organised a meeting chaired by municipal commissioner Anunay Jha and Mathura mayor Mukesh Aryabandhu to discuss the festival plan. In addition to repairing, lighting and decorations of streets, the authorities are working to ensure basic facilities such as mobile toilets, drinking water, lost and found and first-aid/emergency booths, and parking for local as well as outstation devotees. Roads and footpaths are being freed of encroachment to make way for Janmashtami 'bhandaras' and 'pyaaus'.
Shri Krishna Janmsthan will be live telecasting Janmashtami celebrations on 30 August midnight. In a meeting convened by power minister Shrikant Sharma with MVDA officials and the temple management it was decided that preference be given to DD News and news wires/agencies so that the telecast can be shared with as many broadcasters as possible. BTVP vice-chairman Shailja Kant Misra, MVDA vice-chairman and BTVP CEO Nagendra Pratap and SSP Gaurav Grover were present.