Nagridas immortalized Holi in his verses
Holi through the lens of Nagridas' works – by Dr. Chandraprakash Sharma
Raja Sawant Singh, better known as Nagridas in Braj, was a poet and devotee par excellence.
Vrindavan 2022-03-13 : 'Braj te sobha faag ki; Braj ki sobha faag…' These words describing the glory of 'faag' (the 40-day Holi festival played during the month of Phalgun/Faagun) in Braj were written by the celebrated poet and devotee Raja Sawant Singh – the 18th century ruler of Rajasthan's Kishangadh state. He wrote under the pen name 'Nagridas'.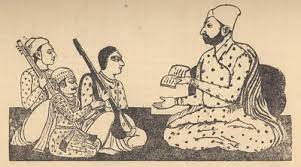 Having abdicated the throne, Sawant Singh spent the later part of his life in Vrindavan. His works contributed greatly to the promotion and preservation of Holi and several other festivals and traditions associated with Krishna Bhakti in Braj. His name shines bright among the many other saints and sadhaks who made the esoteric and unfathomable lilas of Radha-Krishna accessible to the masses through their compositions, that were both refined and simplistic at the same time.
An accomplished artist and poet himself, Raja Sawant Singh or 'Nagridas' patronised many art forms during his time. The Kishangadh School of Miniature Paintings also developed and flourished under him. The festival of Holi is copiously described in Nagridas' many verses as well as in Kishangadh Paintings, mainly through depictions of Krishna Lilas.
Today as Braj celebrates another vibrant Holi, it is pertinent to once again acknowledge and remember the rich legacy of Nagridas.