'Hatri' made by Mathura silver-smiths in great demand
2022.10. 23 (Vrindavan Today News): The months of October and November are marked by the festivities and Diwali is the most important festival celebrated across the country. One cannot miss the glitter and grandeur of Diwali that is synonymous with well lit houses and markets flooded with the dry fruits and traditional sweets. Traditions which are intrinsic part of all cultures can be manifested in the forms of art, customs, and conventions passed from one generation to another without being structurally documented but collectively owned.
One of such 'Diwali' tradition is the art of making the 'hatris'.  The 'Hatri' as it is popularly called, finds its mention in the Diwali tale that is narrated during the puja.  It hence forms an important part in Diwali ritual. Centuries ago, hatri, a house shaped structure, had once started with silver and gold plating, but thanks to the surging meal prices, it slowly got confined as a mud and clay handicraft. It is made of clay and silver, symbolizing a mini house in which the idols of Ganesh – Laxmi are seated.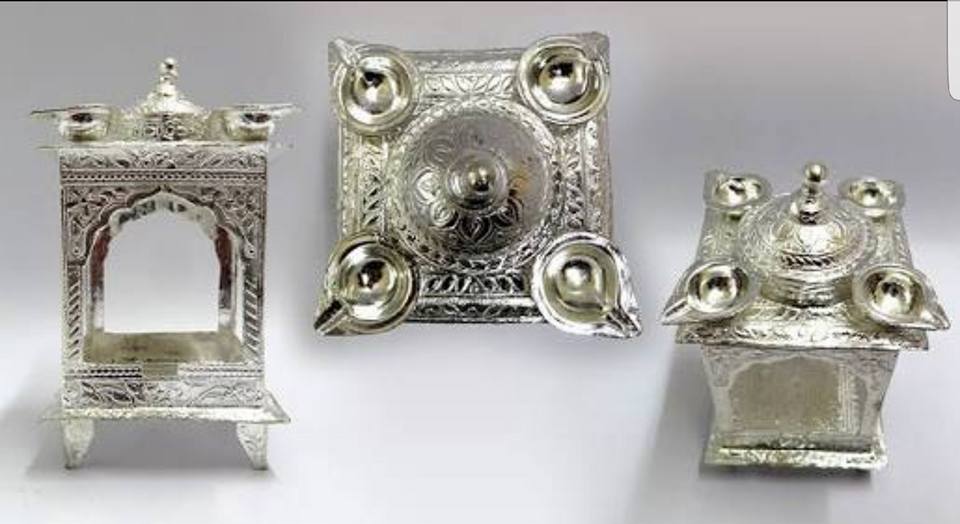 The silver 'hatri' made in Mathura is in big demand in the big cities of Mumbai, Ahemedad, Delhi and in the NCR. The 'hatris' and other items made by the silversmiths of Mathura has become quite popular in these cities. They are in big demands in among the higher class of the society.
People observe the ritual of Diwali in different ways. A big number of people buy the 'Hatris', in which the idols of Laxmi – Ganesh are seated. There is a tradition of worshipping the clay idols of 'Laxmi – Ganesh' in the 'Hatri' made of silver. It is believed that Laxmi and Ganesh are invoked in the clay idols after they are seated in the 'Hatri', symbolizing a house for the gods.
The 'Hatri' weighing from 200 gms to One kg is being made in Mathura. The cost of 200 gm 'Hatri' is Rs. 3500, whereas the One Kilo silver 'Hatri' are sold for Rs. 68, 000. Several families of the silver smiths are engaged in making them during the festivity of 'Diwali'.