Crowd beyond control on weekends
Devotees face heat and chaos at Banke Bihari temple as crowds overwhelm Vrindavan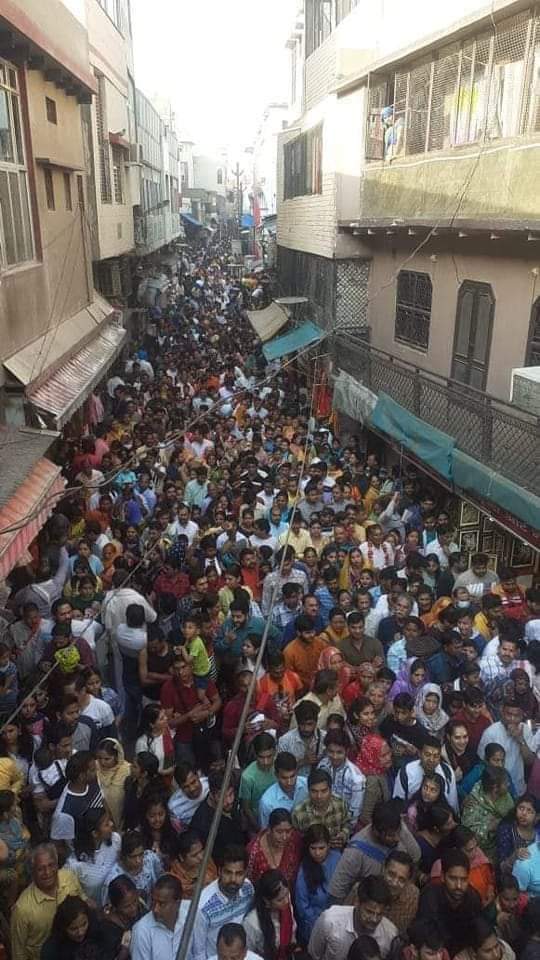 2023.04.08 (Vrindavan Today News): Children were left crying and distressed as the crowd of devotees at Thakur Banke Bihari temple, Vrindavan reached alarming levels. Despite the order of arrival starting early in the morning, the flow of devotees did not cease throughout the day. Women screamed as they were trapped within the crowd, and the intense heat and lack of water caused many to suffer.
Due to a long weekend with three consecutive days off, including the Good Friday holiday on Friday, Vrindavan witnessed a massive influx of devotees. From the early hours of the morning, long queues of vehicles filled the roads leading to the city, as countless devotees made their way to the Banke Bihari temple. The temple was already surrounded by a sea of devotees by 6 am. It was more than one lakh people present on both the routes leading to the temple by the time the doors were opened in the morning.
As the day progressed, the wait for darshan became increasingly challenging for those gathered at the police barricades. Once the temple doors opened, a frenzy of devotees rushed towards the entrance, resulting in several unfortunate injuries and upset individuals. Among them was Rashmi Gupta, a Jaipur resident, who sustained a hand injury from the intense crowd pressure. Fortunately, she received prompt treatment on the temple premises.
The situation was made worse by the day-long traffic jam that saw devotees stuck in their vehicles for hours. Vehicles coming from Yamuna Expressway, the Chhatikara to Vrindavan route, and the Mathura to Vrindavan route were all affected. The jam, which began at 9 in the morning, continued even after the temple doors were closed in the afternoon. The police worked tirelessly to clear the jam, but it continued into the late hours of the night.