Railways PBC Chairman visits Vrindavan Railway station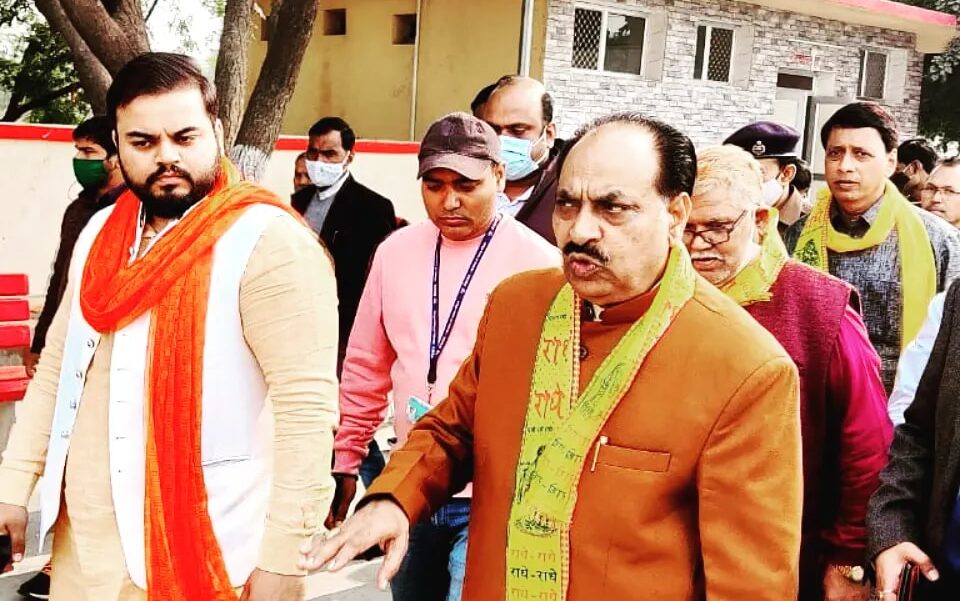 2021.12.14 (Vrindavan Today News): Railway Passenger Board Committee Chairman, Shri Ramesh Chandra Ratn visited the Vrindavan Railway Station on Tuesday. He was accompanied by other officials at the railway station. Shri Ratn was happy with the general cleanliness of the Vrindavan Railways Station, for which he announced the prize of 15000 to the people involved in keeping the station clean.
While talking to the media he said, "Vrindavan is of great significance in the rest of the world. Keeping this in mind, we are planning to develop the railway station for the benefit of the general public." He also informed the media that there will be barricading and boundaries will be built in the span of 2 months and the facilities for the commuters shall improve.
After being questioned about the increased train fare, the Chairman said, "The railway services were limited during the 1st and 2nd wave of the coronavirus pandemic. This was the main reason for the high price but right now there is a discussion going on this matter and soon there will be provisions made to ensure the convenience of the general public."
He also took Darshan and performed rituals at Sri Ranganatha temple which is famous for its south Indian architecture. He was welcomed by the CEO of the temple Smt. Anagha Sreenivasan. BJP leader Udayan Sharma and the railway officials were also present.
The trains which were stopped due to the pandemic are expected to start again. Very soon the railway board can make a decision in this regard. The authorities are going to ensure the convenience of the passengers. Shri Ratn is in Mathura for three days trip. He would inspect of all the Railways stations in Mathura district and evaluate the services provided by the Indian Railways here in Braj.