Khichdi Mahotsava begins at Shri Radharaman on Vyanjan Dwadashi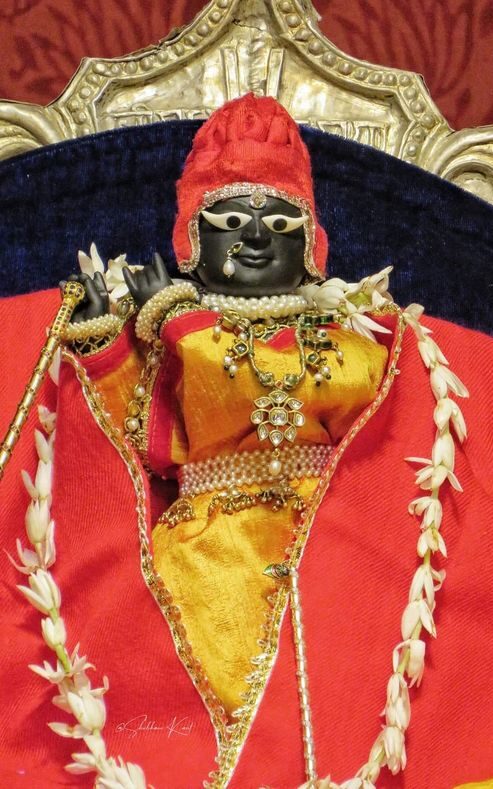 2021.12.16 (Vrindavan Today News): Khichdi Mahotsava at Shri Radharaman Temple begins on the Vyanjan Dwadashi. Special arrangement is being done at Shri Radharaman temple to keep the Lord warm during the 'Sheet Seva Mahotsava'.
Administering the 'Seva Mahotsava', Acharya Shrivatsa Goswami ji said, "The delicious. 'Kichadi' containing various spices and varieties of pulses is offered to Shri Radharaman. The Khichdi is made of meva, jaggery, sesame, cloves, black pepper, nutmeg and garam masala is an integral part of the daily offerings in the temple during the winter to keep the Lord warm. Other food items that are offered to include peanut gazak, til papdi rolls, Urd daal laddos, moong daal barfis, dry fruits like kaju badam, pista and anjeer."
Thakurji is generally dressed in velvet and woolen clothes from the onset of the winter season. Woolen blanket, shawl, quilt, knitted hat, socks and muffler are offered to the lord as the cold increases. The deities can be seen draped in warm clothes, and a sigari (heater burned from coal) is kept to protect them from the chilling cold.
All the major temples of Shri Dham Vrindavan follow their different ways to keep the Lordships warm during the cold weather. The temple priests are adorning their deities by offering woolen blankets and designer warm clothes apart from arranging hot water and hot eatables for the presiding deities. Various food items, which are considered healthy and best suited for the season, are being offered. In the night, milk with Kesar and Mewa is offered and the beautiful Deities are anointed with Kesar itra (fragrant saffron scent.)
Apart from the winter Shringar (dressing) and food, there's also change in their routine. The deities go to bed early and rise late in the morning. Hot water is also being arranged everyday for their baths. The priests are lovingly serving their deities in Braj while the devotees are mesmerized by the beautiful sight of the Lord.
The devotees can be seen buying warm clothes as the cold season prevails in Vrindavan. With this the winter 'seva' has begun in the temples in Braj. People are seen buying winter staples like sweaters, blankets, shawl, socks for their lordships. Special winter bhog containing suitable ingredients are being offered to Lord.