Annapurna Bhojnalaya Inaugurated by CM Yogi
The fully air-conditioned canteen, capable of serving 5000 meals per day, has been constructed at the cost of INR4.86 crore
Vrindavan, 2022-08-20 (Vrindavan Today News): UP chief minister Yogi Adityanath inaugurated the newly built Annapurna Bhojnalaya in Vrindavan during his Janmashtami visit to Mathura-Vrindavan on 19 August.
The fully air-conditioned canteen, capable of serving 5000 meals per day, has been constructed at the cost of INR4.86 crore by the Uttar Pradesh Braj Teerth Vikas Parishad (UPBTVP). It will be managed by Mangalmay Trust headed by Ram Katha Pravakta Vijay Kaushalji Maharaj.
"Every day thousands of devotees come to Vrindavan for darshan of Shri Krishna. The government took this decision to set up the Annapurna Bhojnalaya, with the help of BTVP and Mangalmay Trust, to provide free and nutritious meals to them," the CM said.
Situated on the Mathura-Vrindavan Marg near Jaipur Mandir, the Annapurna Bhojnalaya is a fully air conditioned, two-storey building, covering an area of 2300 square metres. The canteen will serve two wholesome and free meals to 5000 people every day. The set-up is equipped with modern appliances to facilitate the preparation of large quantities of food.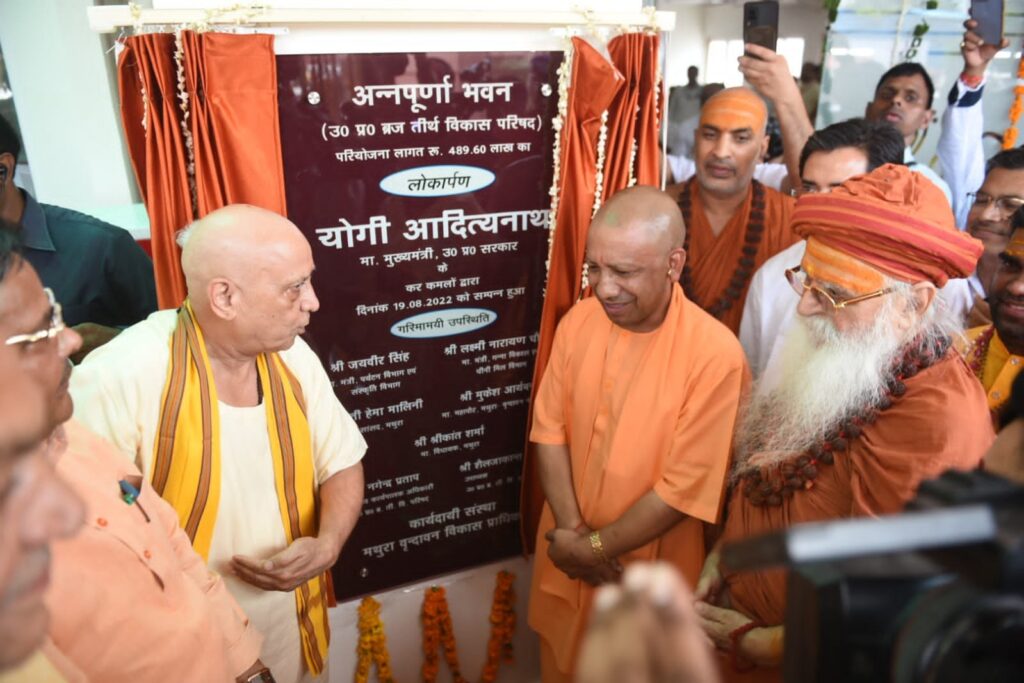 Two stainless steel roti-making machines with a capacity of 500-700 rotis/hour have been installed in the kitchen along with a two flour-kneading machines, two machines to make equal- sized portions of the dough, one for peeling potatoes, a vegetable-cutting machine, a grinder for grinding spices, and 2000 cutlery sets. The canteen can serve up to 600 people at a time.
Tourism minister Jaiveer Singh, cabinet minister Chaudhary Lakshmi Narayan Singh, municipal commissioner Anunay Jha, Vijay Kaushalji Maharaj, Yog Guru Baba Ramdev, Acharya Balkrishna, Sadhvi Ritambhara were present during the inauguration along with other delegates of the BTVP. Jha also carried out a site inspection after the ceremony
CM Yogi served food to the saints during the inauguration, and shared a meal with them. The canteen's chief cook Manish Thakur and Sachdev Singh shared that the menu for the day included 'falahar' for fasting saints, aloo-pakodi curry, puri, kachori, raita, shahi paneer, malpua, gulab jamun and khichdi.
Yogi Adityanath also inaugurated the Centre for Living Tradition and dedicated 25 new battery-operated electric buses to the public during his Janmashtami visit.