Sheet Seva Mahotsava at Shri Radharaman to begin today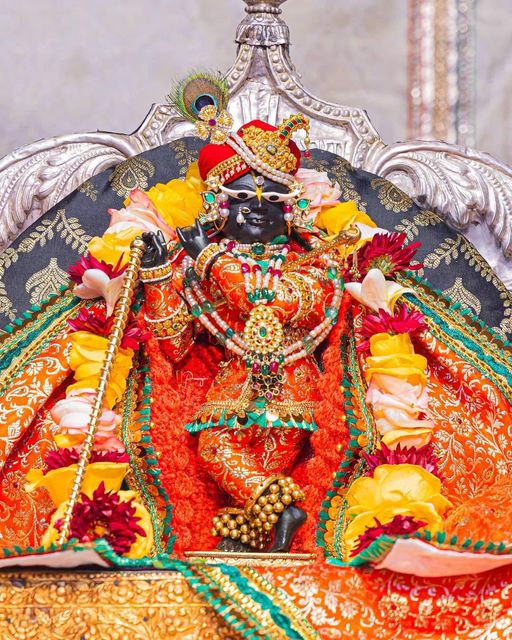 2021.12.11 (Vrindavan Today News): This Saturday, the 11th of December marks the beginning of the 'Sheet Nikunj Seva Mahotsava' at Shri Radharaman Temple. The 13 days long 'Seva Mahotsava' will be dedicated to Thakur Shri Radharaman ji under the direction of Acharya Shrivatsa Goswami ji Maharaj & Acharya Venu Gopal ji Maharaj. Acharya Shri Abhinav Goswami and Acharya Shri Suvarna Goswami ji will be devoted to the Seva from Mangala Aarati in the early morning to Shyan Aarati in the night. The pattern set by 'Nikunj Pravisht' Jagatguru Purushottam Goswami ji Maharaj will be followed by the Acharyas.
This year the 'Seva Mahotsava' will be held from 11th December to 24th December, 2021. Each morning during the 'Seva Mahotsava', a complete reading of Shrimad Bhagvatam will be performed by 26 Sanskrit scholars. Rendition of Shri Chaitanya Bhagvatam will be performed by the Bengali Vaishnavas. In addition to this, the auspicious prayers of Gopal Sahasranam and Narayan Kavach will also be chanted by the Brahmins during the 'seva'.
Each day Shri Radharaman will give darshan from a new 'Kunj' (Grove)', to be decorated at the Sanctum Sanctorum for the pleasure of His devotees. These Kunj will be decorated according to the 12 'rasa' required for performing the devotional services, as suggested by Shri Rupa Goswami Pada. Dasya, Sakhya, Vatsalya, Madhurya are some of the 12 'rasas' for performing the devotional service.
Each 'Jhanki' i.e portrayal will be accompanied by the appropriate music and songs describing Radharaman's lila at that moment. Shri Radharaman Lal give 9 times darshan in a day, between the Mangala Aarati and Shayan Aarati.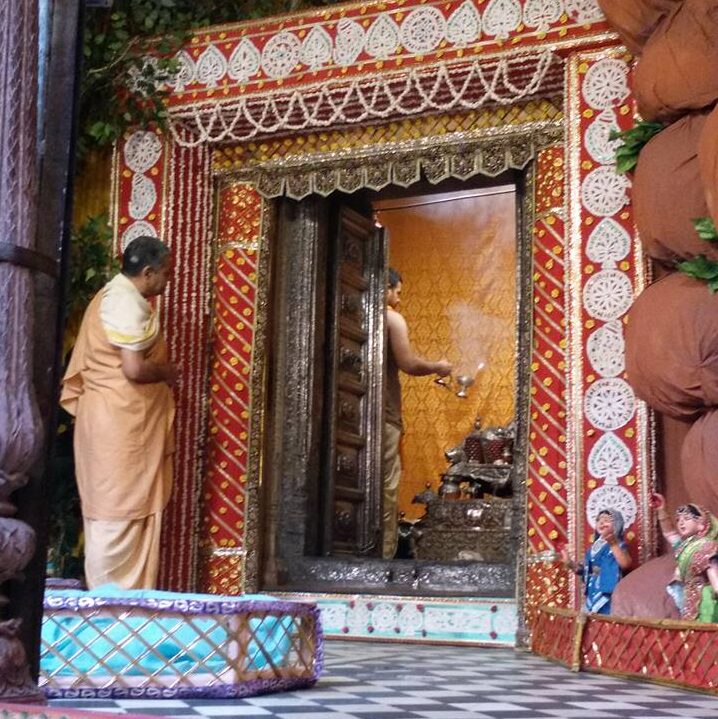 The daily raag seva will be brought to life by different vocalists. A special ceremony called Rajopachar Seva will be offered to the Lord twice a day during Shringar Aarati and Sandhya Aarati. The devotees will hold flags and other sacred symbols during the Aaratis.
Radharaman ji will wear gorgeous new outfits specially woven by the family of Mahahraj ji. New jewelries will also be offered to Him. Special Khichdi Bhog will be offered to the Lord during the 'Winter Seva'.
'Vyanjan Dwadashi' which is also known as Mini Annakoot also falls during the 'Seva Mahotsava, on 15th December. The festival of Vyanjan Dwadashi is an auspicious Dwadashi vrata, which is observed on Margshirsha Shukla Dwadashi (12th day in bright fortnight in Margsheesha month).
Vyanjan Dwadashi marks the beginning of 'Khichdi Bhog' offering to Shri Radharaman Dev. Different delicacies will be offered to Shri Radharaman Lal on this day.
It should be noted that His Holiness Acharya Shrivatsa Goswami Maharaj is a senior Acharya of Shri Radharaman Temple and Internationally renowned personality and a scholar. He is the Founding Trustee of 'Vrindavan Today News'.  Maharaj ji is also founder of the environmental group of 'Friends of Vrindavan'.