'Statue of Unity' museum to display Krishna Kanahi's painting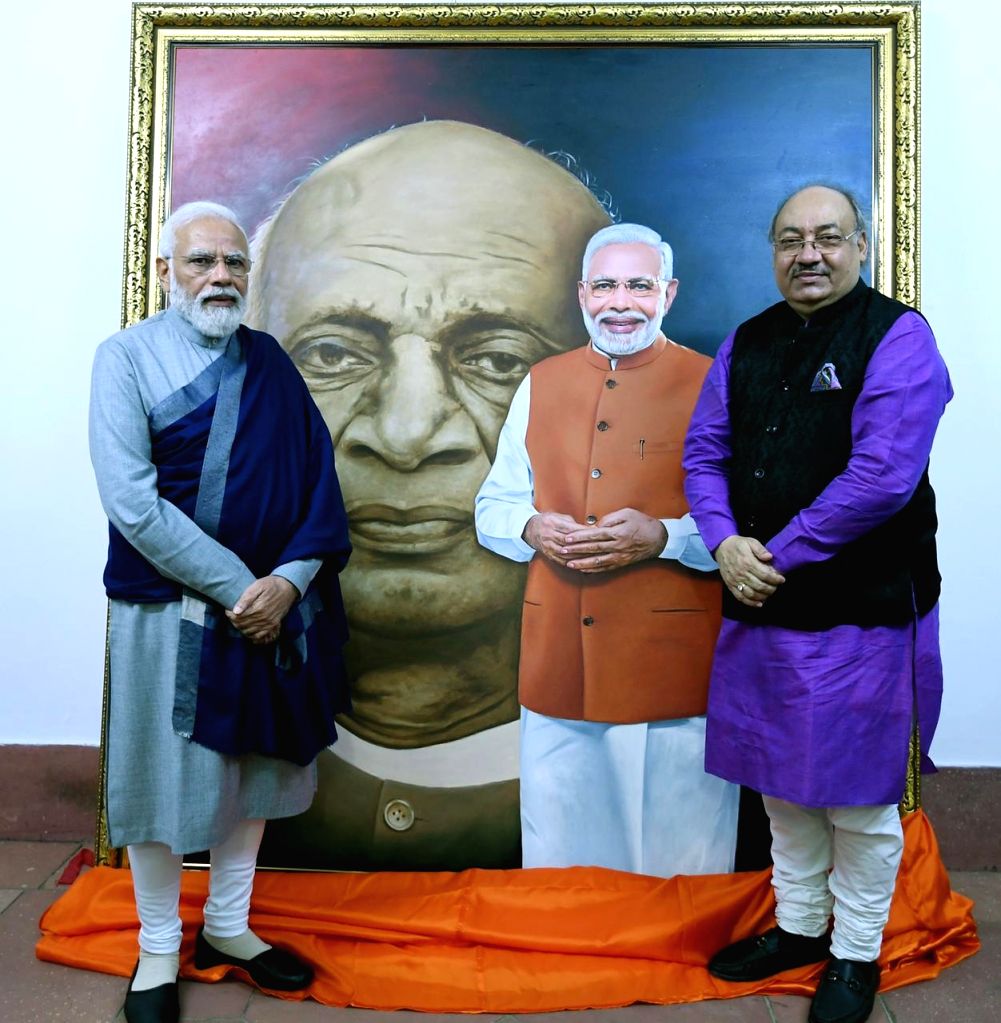 Sardar Patel's portrait by Vrindavan artist Padmashree Krishna Kanhai will be displayed at statue of unity museum in Ahmedabad.
On Monday, Vrindavan's famous artist Padmashri Krishna Kanhai met the Prime Minister Shri Narendra Modi at the Sansad Bhawan and presented the 7 X 8 feet portrait. PM Modi unveiled Padmashri Krishna Kanhai's latest work of life size portrait, depicting Sardar Ballabh Bhai Patel and Narendra Modi together. Kanhai's painting has Sardar Patel in the background and PM Modi in the fore.
Fascinated by the expressions depicted in the portrait, PM Modi suggested that the painting must be displayed in some special place. He decided to send it to the museum of Statue of Unity in Ahmedabad for display. It was drawn in one month time during the lockdown period in 2020. This is the fifth portrait of the Indian Prime Minister made by the artist.
The PM was impressed by the art and enquired when the painting was made and how many days it took to be completed. Krishna Kanhai informed the media that the PM has assured him to send the portrait to the museum of the Statue of Unity in Ahmedabad.
Krishna Kanhai also presented his Coffee table book to the PM. The PM said that he has seen the paintings of all the Chief Ministers made by Kanhai at Lucknow Vidhan Sabha Bhawan.
They discussed about Vrindavan during the tea together. The PM said that he wants to facelift Vrindavan like Varanasi and Dwarka. They spent 30 minutes together. Mathura MP Hema Malini, Kusum Kanhai and his son Arjun Kanhai accompanied him during the meeting.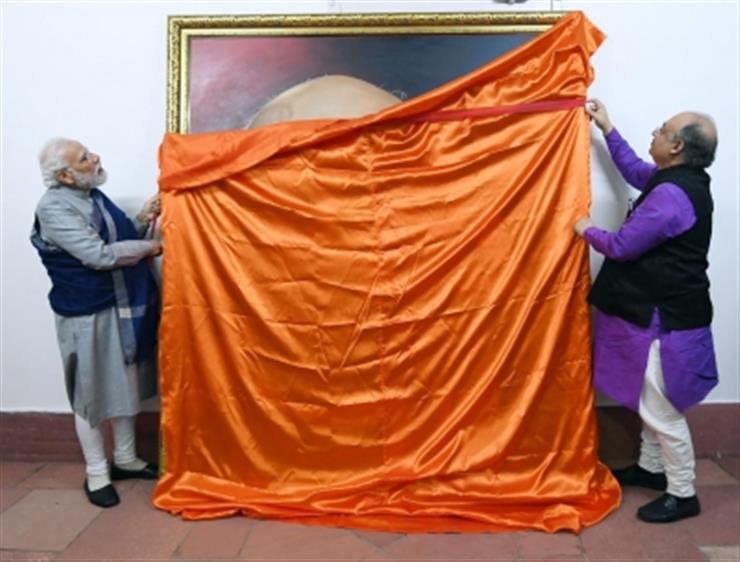 Krishna Kanahai is famous for his paintings on Shri Krishna and His pastimes.  He is master in contemporary, portrait as well as traditional gold painting. He has, however not confined himself in the traditional alone but also introduced certain significant techniques of his own that made the canvas aesthetically appealing and spiritually rich.
He often uses pure gold and precious gems as raw materials for his paintings. Following in the footsteps of his father and mentor Padmashri Kanhai Chitrakar, who himself was renowned Krishna and Radha artist, young Krishna was encouraged by his father to carve his own niche, which he did earlier than expected.
A life size portrait of Bharat Ratna late Atal Bihari Vajpayee, former Prime Minister of India, painted by Krishna Kanhai, is displayed in the central hall of the Sansad Bhawan. The portrait of Shri Vajpayee was inaugurated  by president of India Ramnath Kovind in the presence of Prime Minister Narendra Modi in February.