Municipal Corporation tightens vigil on garbage burning
2021.12.07 (Vrindavan Today News): As the winter has set in, burning of leaf litter and twigs is normal. But people burn garbage to keep themselves warm and also get rid of it, posing health threat in making children and adults affected with chronic respiratory syndrome.
With the unhealthy air quality in the city of Mathura – Vrindavan as recorded in last month, the Municipal authorities have swung into action warning people against burning garbage and issuing fines and booking offenders.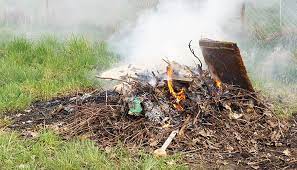 Mathura – Vrindavan Municipal Commissioner Shri Anunaya Jha has issued strict orders to sanitary inspectors to identify the polluters and check the practice of garbage burning. If sanitary inspectors come across burning garbage they will extinguish the fire and also impose penalties on offenders.
It should be noted that there are instructions from the National Green Tribunal to curb pollution to protect environment. Following the NGT directions and complying with the 'Swacch Bharat Abhiyan' guidelines, the Mathura – Vrindavan Municipal Corporation has undertaken several measures to keep the city clean and pollution free. One of the measures is to collect the garbage from the door steps. The Door-to- door garbage collection is being successfully implemented by the Municipal Corporation. Yet there are people who neither contribute to the municipal system nor cooperate it to keep the city clean. They accumulate the garbage in the abandoned land and put fire on it.
The city of Mathura – Vrindavan generates 180 metric tons of garbage daily. It has brought in several reform in managing the city's garbage. Despite the organized approach, burning of garbage is rampant in the city, especially in the colonies and slums situated near the railway tracks. It is not possible to collect the entire garbage from the door steps. There are secondary ways to collect the garbage. It is the responsibility of every citizen to support the government initiatives.
Municipal Commissioner Shri Anunaya Jha said, "NGT orders complete prohibition on garbage burning. Sanitary inspectors have been asked to lodge FIRs against offenders and impose penalties. In case garbage burning is reported, action will be taken against the sanitary inspector concerned."