The Intellectual World of Goswami Radhacharan of Vrindavan
---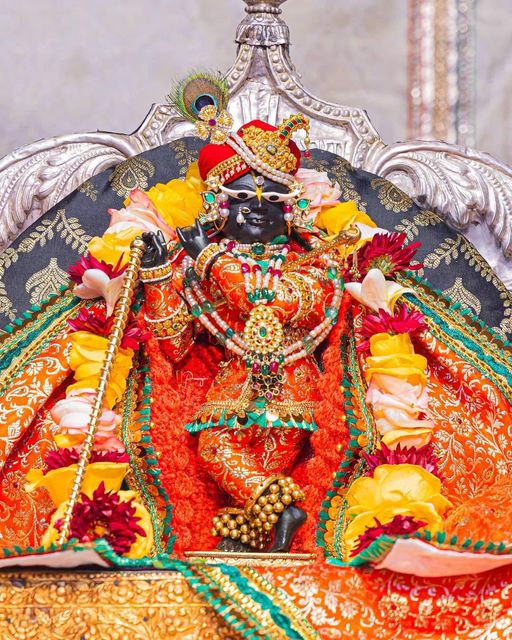 2022.09.17 (Vrindavan Today News): Radhacharan Goswami was born in the year 1859 in Vrindavan in a family of Sri Gullu Ji Goswami and Surya Devi who belonged to the caste of Gaur Brahmins. His father Shri Gunmanjari Das, popularly known as Gullu Ji Maharaj was a goswami and vaishnavacharya at the Radharaman temple in Vrindavan. Having lost his mother in childhood, the young Radhacharan's life was naturally shaped by the impression that his father Gullu Goswami had on him. Less than seventy years of age at the time of his death, Radhacharan lived a life that encompassed many diverse yet interconnected facets and windows to life and perhaps there is no perfect single way to understand him without reflecting on the process that created him and he responded to. This paper, however, seeks to take a different approach. It seeks to understand and reflect on Radhacharan and his life to understand the socio-cultural and intellectual world that produced him and he lived in. This paper is thus an attempt to write a social history of Vrindavan through the eyes of a goswami, a man endowed with religious status and responsibility who transcends the line of the social and the ritual and carves a place for himself as a public intellectual, writer, municipal leader, and becomes an important page in the makers of modern India. The question as to why a reading of the life of Radhacharan Goswami is important at all is significant. This paper attempts to bring Radhacharan into the fold of written history stating that it is important to trace history in a microcosm, to trace the characteristic of an entire social stratum in a specific historical period. The life and times of Radhacharan when routed through historical writing might help identify the complex web of motifs that connect an individual to a historically determined environment and society[1].
Radhacharan regularly wrote and the records of his writings offer a rich canvas of his thoughts and feelings, these connect to the social-cultural milieu he lived in, was influenced by and himself got influenced. This paper seeks to understand Radhacharan in order to reconstruct fragments of the social and cultural histories of Vrindavan in the times he lived. The main sources of constructing this personal and social history are fragments from Radhacharan's own writings, composed by him over a period of time. Belonging to the prestigious Bhartendu Mandal of writers in colonial north India, Radhacharan was inspired by the writings and works of Bhartendu Harishchandra.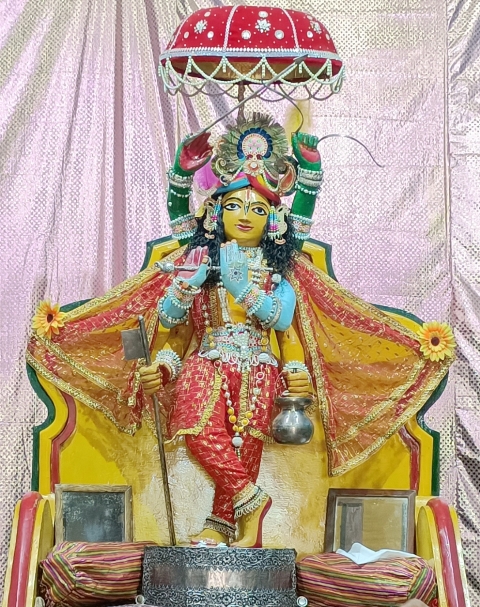 Radhacharan's father Goswami Gullu ji Maharaj was a famous and well respected Gaudiya devotee and a Vaishnavacharya in Vrindavan who was looked upon by students and devotees alike. Gullu Ji Maharaj was born into the family of Shri Ramandayalu Goswami in the year 1827. From an early age Goswami Gullu ji became well known as a Bhagwat kathvachak in Vrindavan and outside it. Radhacharan recalls that his father recited his first katha at the early age of ten years in Lucknow at the residence of Shah Bihari Lal[2]. His father was one of the forty sevaits of the Radharaman temple in Vrindavan who served the idol of Shri Radharaman Lal in turns. Each one getting their turn once in two and a half years, but Gullu ji was a regular face for seva at the Mangla darshan and arati at the temple. Despite being a sevait, Gullu Ji would regularly ask for alms from within the bhog offered to the idol of Shri Radharaman Lal. Gullu Ji was a popular face among the Srimad Bhagwad kathavachaks in Vrindavan and he would often journey to the neighboring towns of Kashi, Shahjahanpur and Bharatpur for giving lectures and kathas. He was a well respected face in the public temples of Bharatpur. Radhacharan recalls how his father was able to spread Bhagwadkatha in almost every single home of Bharatpur and was met with the chants of "Dandvat Maharaj" all over the city[3]. Gullu Ji delivered his Kathas in Brajbhasha avoiding any usage of Persian words in his narratives. He seeked to maintain this puritan idea of the language, a fact that affected and discouraged his son Radhacharan from learning English. It was in 1880 that Gullu ji took a vow to never leave the physical premises and boundaries of Vrindavan. It was this time that most domestic responsibilities were borne by Radhacharan while his father lived a life of uninterrupted dedication to the temple of Radharaman and another temple dedicated to Chaitanya that he later got constructed in 1875 in Vrindavan. Gullu Ji Maharaj was an avid reader and writer who composed in Sanskrit and Bengali with the name of Gun Manjari. Out of his compositions, Sri Radharaman Padmanjari and Sri Yugalchadam got published.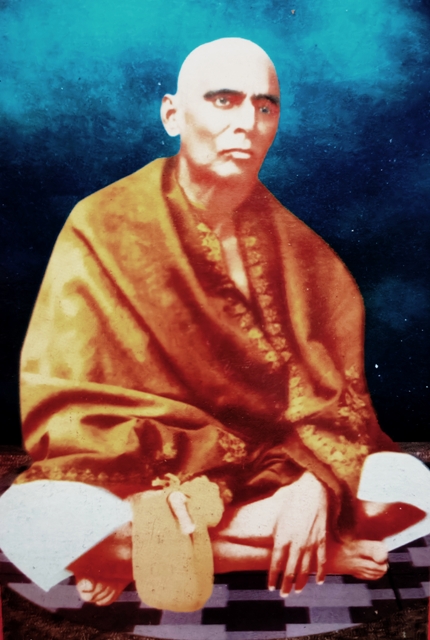 Radhacharan wrote his autobiographical note in 1894 and published it a year later[4]. He confesses to his readers that the only reason that compelled him to pen his autobiographical sketch was not that he found it significant but was taken up under strong persuasion made by the Kashi Devnagri Pracharini Sabha. Radhacharan's autobiographical sketch gives a detailed account of his intellectual world while he informs us of the intricate connections he established in the traditional world of the goswamis of Vrindavan in his early phase of learning. His first teacher was his mother Surya Devi who herself was an educated woman and while she was alive helped child Radhacharan learn his early lessons. The sudden and early demise of his mother created a vacuum that was filled by his father Goswami Gullu Ji Maharaj with whom young Radhacharan started travelling to centers of learning and education outside Vrindavan. At a young age Radhacharan made frequent visits to the academic centers built in the cities of Kashi, Kanpur, Bad (Bihar). He also kept travelling in groups of students to Farrukhabad and Bharatpur. These travels were accompanied by his religious learning also. The year 1867 was marked by two important events that moulded his life, his Yagyopavit or sacred thread ceremony and his first marriage with Sri Champakalata in Vrindavan.
Sanskrit learning remained a very important part of his early intellectual journey and he recalls that for the initial years till about 1869 the only discipline he was taught was Sanskrit grammar of which he understood and enjoyed very little. Radhacharan was taught by learned men from Vrindavan and other centers of traditional learning located in the cities of Kashi and Farrukhabad. One of his earliest teachers was Pandit Ganeshdas from Vrindavan from whom Radhacharan learnt the Karakant Saraswat for four months in the year 1870. In Farrukhabad he studied under the guidance of Pandit Hariprasad with whom he finished the study of Chandrika Uttarardh. Radhacharan affectionately recalls this period of his early academic life and says that he loved studying so much to the extent of crying on days when his teacher wouldn't visit him[5]. In the year 1871, Radhacharan began the study of Siddhant Kaumudi the seminal text on Sanskrit grammar under the guidance of Goswami Shri Baldev ji Maharaj in Vrindavan following which he began the learning of the Raghuvamsha. Simultaneously, Radhacharan while spending time in Farrukhabad in his temple kept on learning under the guidance of Pandit Madhav Das Achari, Shri Narayan Sastri and Pandit Umadutt. In 1874 he began learning the Srimad Bhagwad under the guidance of his father and Goswami Gopalji Maharaj who also helped him with sampradayik texts of the Gaudiyas. He spent the next five years in Farrukhabad. Radhacharan learnt from many men across and outside Vrindavan of which Pandit Biharilal, Pandit Kundanlal, Goswami Kanhaiyalal, Goswami Madhusudan, Pandit Vasudev Swami from Mathura, Pandit Jagannath Sastri from Kashi are few.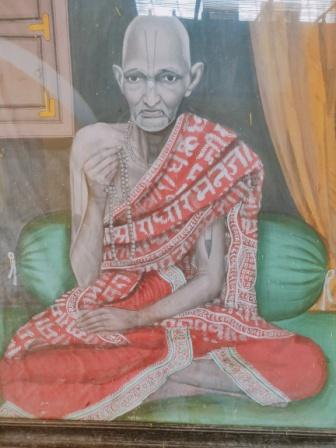 Young Radhacharan was attracted by the English language. He was around fourteen years of age when he had his first encounter with English language while he visited a government high school in a city where a Sanskrit exam was scheduled. He confesses that he was filled with a great amount of reverence for the language and the sense of discipline that permeates with it. He decided to learn English , which was a tough choice for him. Radhacharan in his autobiographical note reminds his readers that he belonged to a family which had imposed restrictions even on the utterances of a single word of Persian or English. Such an act called for repentance therefore Radhacharan decided to learn the language in secret with the help of Pandit Ramratan who was a Sanskrit teacher in the district school of Farrukhabad. Radharaman began as an excited learner and got himself admitted at a district level school at Farrukhabad and began taking lessons in English with the help of Pandit Mathura Prasad Mishra's English textbook. He recalls how he obtained a copy of the book in secret through post and a letter written to Professor Mathura Prasad Mishra who taught at Queen's College Banaras. The news of him attending English lessons at the school soon reached his teachers which invited their resentment towards Radharaman. He recalls being warned by one of his teachers and gurus and pressured to leave his English learning from the school or face a social boycott. Disheartened, Radharaman admits that he was dependent on the community and had to give up the learning in English which caused him immense pain.
The dilemma of crossing the line of conservatism and tradition and facing the wrath of his peers and teachers was something that Radhacharan had to grapple with at his young age. He recalls his growing interest in nationalism and literature around it but the fear of disapproval from elders and teachers loomed large on his young mind. "Duvidha Mai Dou Gaye, Maya Mili Na Ram", he found himself at the juncture of losing both[6]. There came a time, very early in his life when Radhacharan wanted to respond to the call of nationalism but the fear of objection from peers diverted him to the search of alternate means to quench this thirst of engaging with national questions. In 1875, Radhacharan along with his very close friends Madhusudan Goswami and Shobhan Goswami formed the Kavikul Kaumudi, a small literary group aimed at the growth of poetry and prose in Hindi language. The first session of Kavikul Kaumudi coincided with a tragedy in Radhacharan's personal life. His wife, Champakalata Devi died just three days before the first session of Kavikul Kaumudi. He recalls attending the session in a feeling of deep grief and personal loss. Inspired by the European ways of organizing work and meetings Radhacharan admits that conducting this first session was a tough step as it met stiff resistance from his family and peers. Meetings of this formal kind were thought to be based on an "angerzi reeti" and invoked displeasure from the traditional circles of Vrindavan[7]. In the same year Radhacharan got married for the second time to Kundalata Devi who belonged to Mathura. He recounts giving her lessons in Hindi language.
The late nineteenth century in colonial north India saw a rise of literary circles set up in urban centers, which were the principal sites for the physical manifestation of colonial modernities. The work of Bhartendu Harishchandra and Radhacharan Goswami around the late nineteenth century in north India could be seen using satire as a literary tool to entangle with and address the question of colonial modernities[8]. Both Bhartendu and Radhacharan articulated political agendas in literary expressions and satire became a site where uncomfortable questions could be creatively addressed to dominant groups and hegemonic institutions. Radhacharan began writing for a few periodicals in Vrindavan. His earliest recollections of writing are in the form of a critique of aspects of the Hindu religion. He had to meet with tough criticism and resistance from his students, friends, and family for the same. Another important influence on the intellectual life of Radhacharan was that of Swami Dayanand Saraswati who visited Farrukhabad and Vrindavan for meetings and lectures. Radhacharan diligently read the texts composed by Swami Dayanand. However, it was Bhartendu Harishchandra who had the most profound influence on the intellectual and personal journey of Radhacharan. This intellectual fondness for the literary works of Harishchandra soon made him Radhacharan's ideal in life. He recounts in his autobiographical note that this growing affection for the literary works for "Babu Harishchandra" made him perceive him as the eleventh avatar of God (Vishnu)[9] and someone who led young Radhacharan as an example.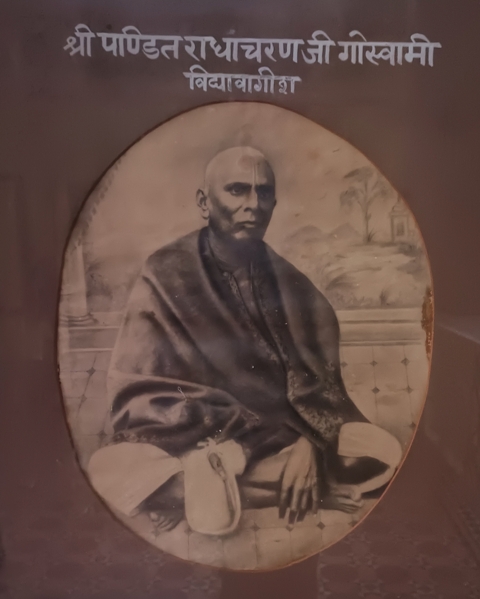 Radhacharan performed the dual responsibilities of the life of a traditional goswami at the temple and that of a promising writer. He wrote and regularly got published in the prominent periodicals and newspapers of Hindi language between 1877 and 1883 and composed over two hundred articles and long texts. Another very important feature of his intellectual life was his stress on documentation and archiving. Radhacharan notes his fondness for reading and collecting newspapers as a daily exercise, the failure of which would make him lose interest in his meals for the day. He kept documenting and collecting letters and correspondence received by him since 1875. Slowly Radhacharan began publishing. The first text he published was titled Shikshamrit.
The year 1882 was marked by the birth of the Vaishnav Dharm Pracharini Sabha, which was formed by Madhusudan Goswami, a close friend and associate of Radhacharan. Radhacharan was made the Dwitacharya of the Sabha. Radhacharan started the publication of a monthly magazine called Bhartendu which continued for three years and four months but was stopped due to the paucity of resources. In the year 1885, he traveled to Prayag to attend the first session of Hindu Samaj, where a society of editors was formed of which Radhacharan remained as the Secretary for a year. Radhacharan continued his writing after returning to Vrindavan and this period of his life was marked by few important intellectual positions posited by him that shaped him role as a social reformer in Vrindavan. "Videsh Yatra Vichaar" and "Vidhva Vivaah Vivran" were two of his significant writings composed in this period that ignited much flames of resistance and opposition for Radhacharan and his position as a traditional goswami in the inner circles of the town. Radhacharan recounts being elected to the Vrindavan Municipality in the year 1885 and continued working for the town's municipal government for the next three years. He recounts how his free-willed and motivated spirit towards work harbored animosity and envy among the circles of people he came across in the municipal affairs. In the year 1894, Radhacharan was re-elected to the Municipality of Vrindavan.
Radhacharan calls himself a "kattar Vaishnav, kattar Hindu" while introducing himself to his readers. This features in the very last part of his autobiographical note wherein he finds it very important to describe to his readers as to who he is in nine brief points[10]. In this part of his note Radhacharan reminds his readers of his birth in an orthodox family, but also his generosity in works of national importance. He calls himself a kattar vaishnav and Hindu who also has friends among the followers of the Arya Samaj, the Brahmo Samaj, the Muslims and the Christians. His orthodox roots could not restrict Radhacharan from attending the meetings of these organizations too. He writes that the among the things that were as close to his heart as his own life were the call for national progress, the Indian National Congress, the question of women's liberation and social reform, while the search for "Satyam" is the ultimate goal of his life[11]. Radhacharan had a brief political career with the Indian National Congress. He worked as the Secretary of the Divisional Congress Committee of Mathura from 1888 to 1893 and recalls attending the meetings of the INC as a delegate to Prayag and Lahore.
The year 1900 marks the demise of Radhacharan's father Shri Gullu Ji Maharaj, an event marked with deep grief and mourning in his autobiographical note. Radhacharan describes his father as an "adarsh sadhu" or "mahatma", who followed and lived by the precepts of a vaishnava life. He describes his father as his main inspiration and motivation behind his desire for national service and as someone deserving to become an avatar in his afterlife[12]. Gullu Ji's demise was soon to be followed by a clash among the Gaudiya devotees of the Radharaman temple and its sampradaya over the question of the observation of fast and chanting on the day marking the birth of Chaitanya, the founder of the Gaudiyas. The controversy soon leaped the bounds of Vrindavan and became a country-wide concern among the Gaudiya sampradaya. The controversy, says Radhacharan, became a moment of the revival of the Vaishnav Dharm Pracharini Sabha and Radhacharan along with his close associate Madhusudan Goswami soon came into the limelight again. Radhacharan was awarded the title of "Vidyavagish" by the pandits of Nawadeep[13].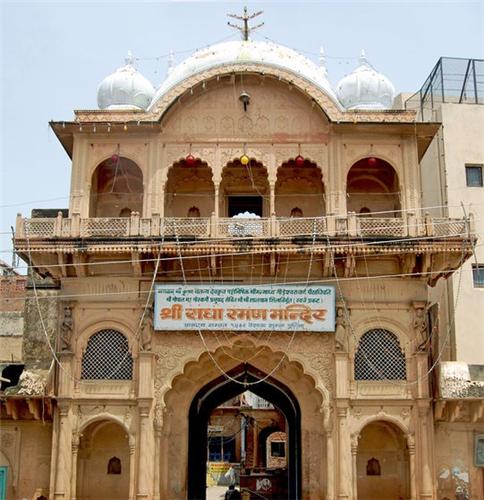 There is much more to the persona of Goswami Radhacharan. His devotion to public life and his stance against existing social evils will perhaps need a deeper insight into his intellectual world available to us in his own writings. His stance on Videsh Yatra and widow-remarriage has much to offer this world. Sitting in Vrindavan while composing the text, Radhacharan exhibits a universal approach and vision of perceiving the social world around him. Living in the close quarters around the Radharaman temple in Vrindavan and spending time in the company of goswamies and devotees could not restrict the intellectual horizons of Radhacharan who was perhaps already slowly crafting a universalist approach to life and his socio-political experience while having his roots grounded in the traditional community he belonged to. Radhacharan was a man of many worlds and is very much relevant in the present moment. There is also the urgent need to historicise Radhacharan and bring him in the folds of history writing. This paper has made this humble attempt.
---
[1] Carlo Ginzburg, The Cheese and the Worms, The Cosmos of a Sixteenth Century Miller, John Hopkins University,
[2] Awadhbihari Lal Kapoor, Braj ke Bhakt, "Goswami Gallu Ji Maharaj", pp 291, publisher Gopesh Kapoor, Patna, 2007
[3]Ramniranjan Parimlendu, Radhacharan Goswami Rachna-Sanchayan: An Anthology of Selected writings of modern Hindi writer Radhacharan Goswami, "Mahatma Goswami Shri Galluji Maharaj ka Jeevan Vritant", Sahitya Akademy,2019, pp 269
[4] Radhacharan Goswami, "Mera Sanshipt Jeevan Charitra Mera Likhit", Ramniranjan Parimlendu, Radhachara Goswami Rachna-Sanchayan: An Anthology of Selected writings of modern Hindi writer Radhacharan Goswami, Sahitya Akademy, 2019, pp 260
[5] Radhacharan Goswami, "Mera Sanshipt Jeevan Charitra Mera Likhit", Ramniranjan Parimlendu, Radhachara Goswami Rachna-Sanchayan: An Anthology of Selected writings of modern Hindi writer Radhacharan Goswami, Sahitya Akademy, 2019, pp 261
[6] Radhachara Goswami Rachna-Sanchayan: An Anthology of Selected writings of modern Hindi writer Radhacharan Goswami, Sahitya Akademy, 2019, pp 262
[7] Ibid, pp 262
[8] Prabhat Kumar, "Colonialism, Modernity and HIndi Satire in the late 19th century", Zeitschrift für Indologie und Südasienstudien (ZIS) 28 (2011) 1-25
[9]Radhachara Goswami Rachna-Sanchayan: An Anthology of Selected writings of modern Hindi writer Radhacharan Goswami, Sahitya Akademy, 2019, pp 263
[10] Radhachara Goswami Rachna-Sanchayan: An Anthology of Selected writings of modern Hindi writer Radhacharan Goswami, Sahitya Akademy, 2019, pp 266
[11] Ibid 266
[12] Ibid, footnote 11. Pp 265.
[13] Ibid, footnote 12 pp 265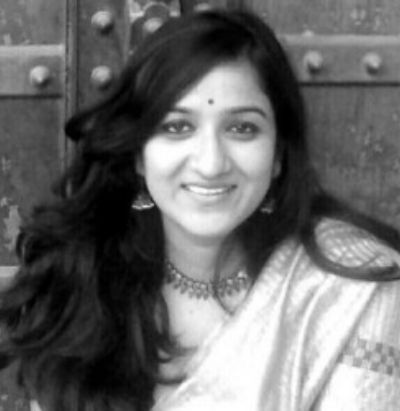 About the Author
Paridhi David Massey's research interest lie in the study of colonial cities, pilgrimage centers and religious tourism. She is particularly interested in the study of urban communities, religious spaces, spatial politics of cityscapes, and urban technologies of rule. Her doctoral research is based on the region of Braj- Mathura as a city and pilgrimage center in the nineteenth century. She plans to look into the historical evolution of the region of Braj beginning from the mid-nineteenth to the late twentieth century while trying to understand the same through the process of urbanism and city-formation and its relationship with sacred-spaces. Paridhi has a background in the discipline of History, with an undergraduate degree from St. Stephen's College, a post-graduate degree in Modern Indian History and an MPhil from University of Delhi. Her MPhil dissertation titled "Women Writing Self-Respect Histories, 1926-47", was an attempt to investigate alternative ways of writing the histories of gender and caste through a critical reading of women's narratives in the Self-Respect Movement in Tamilnadu.
---