Thousands Take a Dip in Yamuna; Seek Liberation from Yama's Noose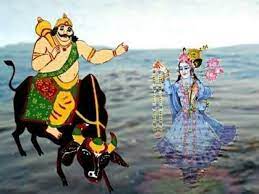 2023.11.15 (Vrindavan Today News): Vishram Ghat in Mathura witnessed a historic congregation on the occasion of Yama Dwitiya (Bhai Dooj) on Wednesday.  Siblings from various regions gathered to take a symbolic dip in the Yamuna, expressing their desire for liberation from the clutches of Yama (the God of Death). Sisters adorned their brothers' foreheads with auspicious marks and extended wishes for their long and prosperous lives, while brothers presented gifts to their sisters.
Due to the two-day duration of Amavasya, this year's celebration of Yama Dwitiya was observed a day later. The ritualistic bathing commenced a day prior, drawing a large number of brothers and sisters to the holy site. Devotees began their sacred bath at the break of dawn, with a massive crowd forming at the Vishram Ghat. Thousands participated in the ceremonial pouring of milk into the Yamuna, followed by worship. The Vishram Ghat, Kamsa Khar Ghat, Sati Ghat, Prayag Ghat, Ram Ghat, Shyam Ghat, Dauji Ghat, and Bangali Ghat witnessed a continuous influx of devotees seeking purification through the ritualistic bath.
As the day unfolded, the swarm of brothers and sisters extended to the Swami Ghat, where a considerable number of people also immersed themselves in Yamuna. With the sun rising, the ghats became a focal point for devotees seeking spiritual rejuvenation.
The announcement system set by the Municipal Corporation continuously emphasized safety measures to prevent any accidents during the holy dip. Additionally, motorboats were deployed to ensure the safety of those venturing into the deep waters, with authorities maintaining a vigilant presence.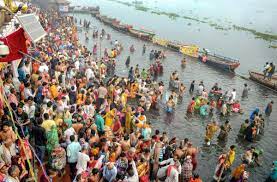 The ritual of applying a sacred mark on the brothers' foreheads and offering sweets marked the culmination of the ceremony. Brothers reciprocated by presenting gifts such as clothing and tokens of goodwill to their sisters. Subsequently, the siblings proceeded to the Yamuna Ji-Dharmaraj (Brother-Sister) temple for prayers and the lighting of lamps.
The municipal administration, in collaboration with the Mathura Chaturved Parishad, made special arrangements for the grand bathing ceremony. Intensive security measures were in place to manage the influx of devotees, including barricading at key points and coordination with law enforcement to regulate vehicular traffic.
Celebrations extended to households, where sisters, following the tradition of Raksha Bandhan, applied auspicious marks on their brothers' foreheads and shared sweet moments. Married sisters visited their brothers' homes, resulting in significant crowds at bus stands and toll booths, even causing some roadblocks.
The festival of Bhai Dooj was observed with grandeur, blending tradition and spirituality, as brothers and sisters joined hands in seeking divine blessings and strengthening the bonds of love and protection. This is one of the biggest festival of Mathura. Recenty the demand of declaring the Yama Dwitia as a State Festival was raised by the different quarters of Mathura.