Traditional Occurrence of 'Yamuna Pulin' in Vrindavan
Yamuna enthusiasts rejoice as Yamuna flows on its original course
Saints, Priests and Brajwasis welcome the Divine Mother of Yamuna by performing Aarati
2023.07.19 (Vrindavan Today News): History repeats in Vrindavan as the Yamuna embraced Gyan Gudri and flooded its sacred precincts to form Yamuna Pulin. Religious fervour marked the traditional occurrence. The Brajwasis, saints and resident devotees initiated the age-old rituals, through heartfelt puja and the illumination of incense laden Aarati. The Devotional sight of flickering flames harmoniously dancing to the chants of devotion resonated with the assembled faithful, evoking a sense of sublime transcendence. When Yamuna reaches here it is considered very auspicious as she touches the topmost place of 'Prema Bhakti' where Uddhava held dialogue with the Gopis.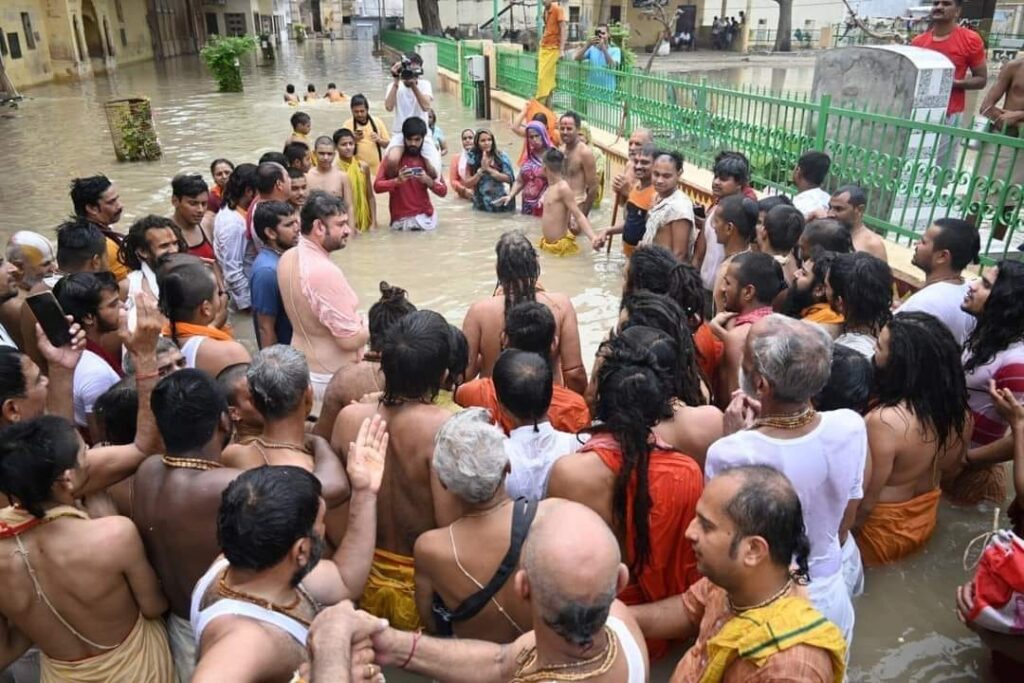 'Yamuna Pulin' has occurred after thirteen years as all the ancients ghats, several important temples have came under the submergence of the flood. Last time it occurred in the year 2010, preceded by the flood in 1978. Yamuna enthusiasts rejoice as Yamuna flows on its original course.
At the helm of this momentous occasion the revered saints, priests and brajwasis welcomed the Divine Mother with unwavering veneration. The saints from Sudama Kuti and Malook Peeth organised a 'Nauka Vihar' by taking out their deities on a boat ride around the sacred place of Uddhav Gopi Samvad Sthal. The devotion of saints for Yamuna infused the atmosphere with spiritual sanctity.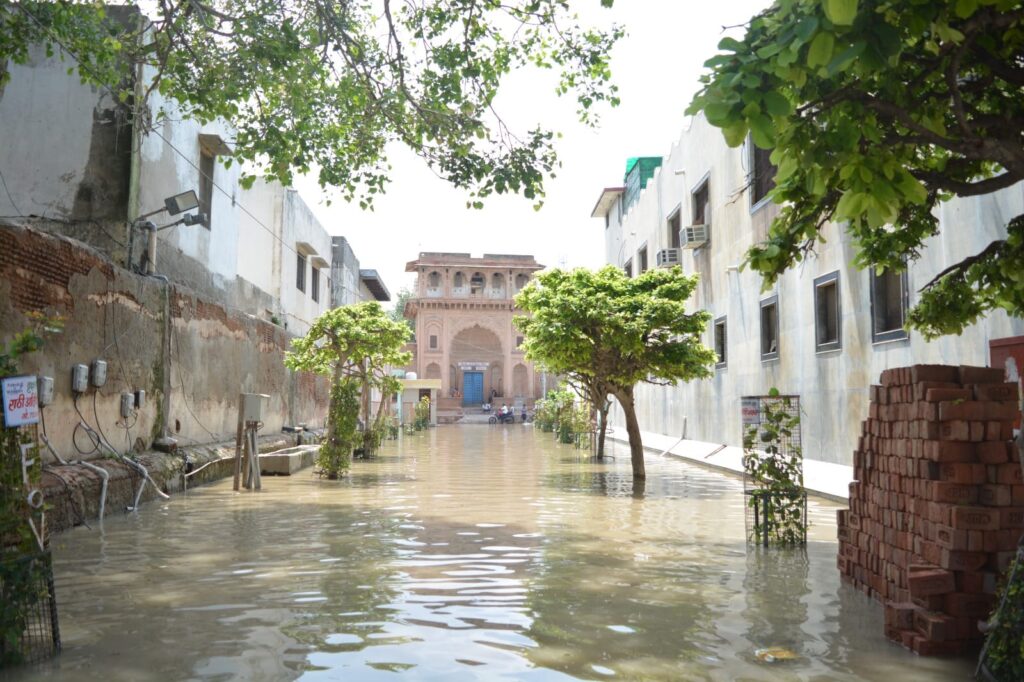 A large number of devotees participated in the boat procession. The residents welcomed the 'boat procession' by performing Aarati of the deities when it passed from their doors. The Brajwasi residents welcomed Yamuna ji at their doorsteps by offering it flowers, sweets and milk. It was the manifestation of their emotion for Yamuna as they performed Aarati and chanted Yamunashtak in the glory of the Divine Mother.
With the water level increasing in Yamuna, it overflowed its bank and embarked on an excursion to different temples and shrines. It reached several important places including Tatiasthan, Katyayani Mandir, Eastern Gate of Shri Rang Mandir, Cheer Ghat, Gyan Gudri etc.
The auspicious encounter with the sacred Yamuna will forever linger in the collective memory of the blessed witnesses, serving as an indelible testament to the timeless devotion that epitomizes the soul of Vrindavan.