Braj 84 kos Parikrama to be developed as heritage highway
Last month MP Hema Malini and Misra met with union minister Nitin Gadkari to discuss the rebuilding and expansion of Braj 84-kos Parikrama. The route has been declared a national highway, designated as NH108.
Vrindavan, 2022-04-24 (Vrindavan Today News): Mathura MP Hema Malini has expressed the government's intention to develop the Braj 84-kos Parikrama as a heritage highway offering an unparalleled spiritual experience and world-class facilities such as cemented and kuccha roads for different types of parikramarthis, solar lighting, signages, and public amenities as well as facilities for their regular cleaning and maintenance.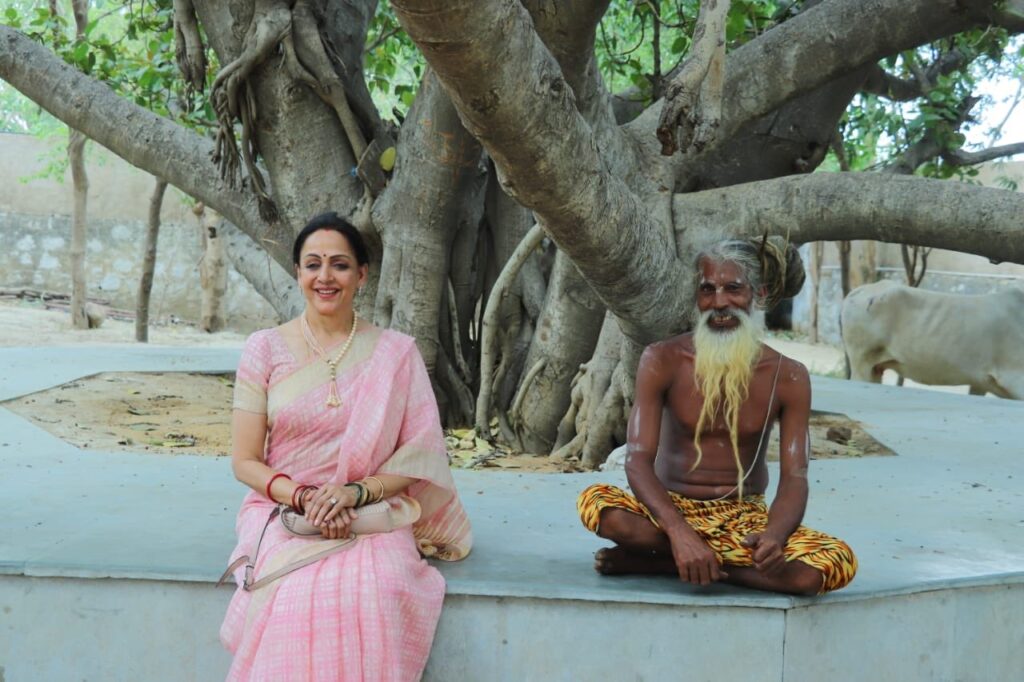 On the last day of the Braj 84-kos Parikrama the MP visited Garud Govind Temple along with BTVP vice chairman Shialja Kant Misra. During the seven-day program they covered nearly 32 spots and sought suggestions from the locals on how to develop them as prominent centres on the 269-km-long Parikrama route.
Misra informed that there are over 170-180 sites of local importance on the Parikrama and 20 others that are universally acclaimed. These should be developed and maintained in accordance with their religious significance as mentioned in the Puranas. Along with them, the BTVP also plans to develop additional destinations on the route that have acquired a reputation over the years.
As per the new plan 1.25 acres of land has been allocated for development of the smaller padavs (camps or stop overs), 3 acres for medium and 6 for the large ones. Because most people undertake the Parikrama on vehicles these days, there are proper cemented roads in place, but the kuccha marg still needs to be developed as a contiguous stretch, said Misra.
The top BTVP official also shared that minister of road transport and highways Nitin Gadkari has given approval on the plan and has also assured that the 84-kos Parikrama would be included in world heritage sites.
Last month MP Hema Malini and Misra met with the union minister to discuss the rebuilding and expansion of Braj 84-kos Parikrama, and put forward a memorandum of appeal to expedite the same. The NHAI (National Highway Authority of India) approved the project along with a sum of Rs. 5000 crore. Considering the high volume of traffic and footfalls the Parikrama Marg was declared a national highway, designated NH108.