Vishnupriya's enthralling performance in Odissi Manch Pravesh
Manch Pravesh, the first time a dancer gives solo performance, is a milestone in the life of any dancer.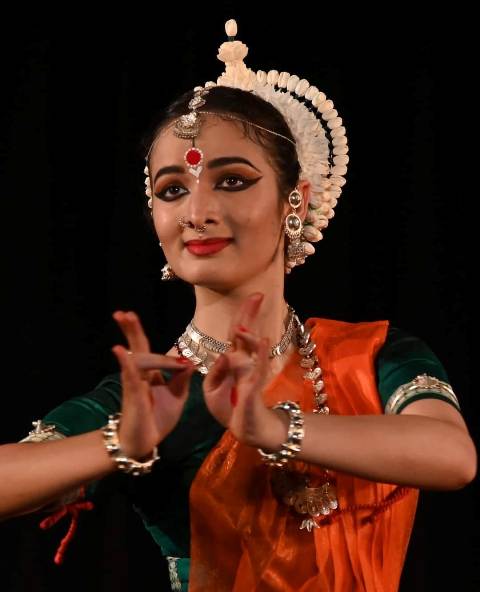 New Delhi, 13 November 2022. In Odissi dance tradition, Manch Pravesh is an important event in the life of a dancer. This marks the beginning of her life as a solo performer on stage. Vishnupriya, a student of Guru Kunjlata Mishra and Guru Pratap Narayan, and granddaughter of famous vaishnava acharya of Vrindavan, Shrivatsa Goswami, has taken her first step on this journey. On Sunday, she gave her first solo performance in the main auditorium of India International Center at Max Mueller Marg, New Delhi. She intrigued everyone present there and received a huge round of applause from the audience. Padmashri Srimati Madhavi Mridula and Padmashri Srimati Geeta Chandran graced the event as chief guests. Also present were several remarkable personalities like danseuse Padmashri Ranjanagauhar, Kathak Guru Manjushri Chatterji, actress Sushma Seth, Dr.Merchant, Rabai Malekar, Dr Mohinder Singh and many others.
Vishnupriya performed a complete classical Odissi repertoire from Manglacharan to Moksha( Manglacharan, Sthayee, Pallavi, Abhinaya and Moksha). During the performance she was accompanied onstage by Guru Srimati Kunjlata – Manjeera, Shri Sukant Kundu – vocal, Padmashri Dhaneshwar – Mridanga, Shri Saumya Ranjan – flute and Shri Gopinath Swaii – voilin.
The performance commenced with invocation to Lord Sri Krishna followed by Sthayee depicting the various postures of the sculptures present in the temples of Odisha. The next part Abhinaya was based on Oriya Kavya – Bha Champu, showing various poses and expressions (bhangimas) of Krishna and how the Gopis are allured by his charm.
During the next part, Pallavi, Vishnupriya performed from Vilambit laya to Dhrut laya (delayed rhythm to fast rhythm). It was based on a particular raga. She also performed Bajrakanti Pallavi followed by a soulful performance on Geet Govind's 'Yahi Madhava Ashtapadi. In this she acted as Khandita heroine. When Vishnupriya presented Moksha, everyone present in the auditorium was bound to praise her.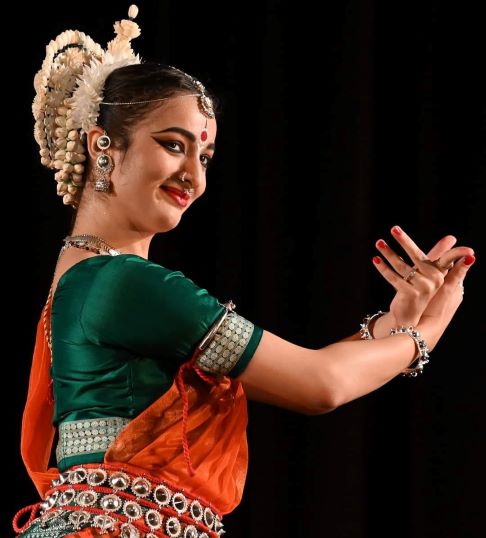 On this occasion, Vishnupriya said, "I am very excited and joyous, the acknowledgement given by the viewers overwhelms me. I owe the credit for this to my gurus. Under their guidance I learned this art and today I gave my first solo performance. I hope with their blessings, will be able to make them proud by giving more such dynamic and great performances in the future.
Vishnupriya started learning Odissi dance at the age of three. She started her training in the kechur tradition, later on Srimati Kunjlata gave her intense training in the tradition of Guru Debaprasad Das. She began her dance journey with first performance in Radharaman temple at Vrindavan in 2006. In 2021, she received her Visharad degree in Odissi dance from Gandharva Mahavidyalaya. She is also associated with Doordarshan, Uttar Pradesh. In 2021, with the blessings of Dr. Mohini Giri ji, she gave a performance in the Golden Jubilee ceremony of Guild of Service at India International Center. She has many more achievements to her name besides these.