Giriraj ji's bare crest to be ornamented with Dhau trees
While the foothills of Giriraj ji support tree plantation and natural plant life in general, the mountaintop is dry, rocky and devoid of vegetation.
Govardhan, 2021-10-08 (Vrindavan Today News): The UP Braj Teerth Vikas Parishad (UPBTVP) has embarked on a praiseworthy project to ornament the bare crest of Giriraj Parvat in Govardhan with Dhau Trees (Anogeissus pendula or Axle Wood Tree). The initiative is unique for it prioritises protecting existing Dhau plants and assisting them to grow into trees, over planting new ones.
BTVP has sought administrative support for this project which will be executed in collaboration with the forest department.
Getting into the details of the plan and the need for such an initiative, Mukesh Sharma – BTVP's environmental expert and consultant, said that even though the foothills of Giriraj ji offer sufficient soil and water to support tree plantations and plant life in general, the mountaintop is mostly dry, rocky and devoid of any kind of vegetation. The rainwater flows downhill, washing away all the soil along with it. Dhau, despite being indigenous to the terrain, finds it difficult to survive at the altitude due to the unfavorable conditions, one being the complete lack of water, and second, the danger of being trampled under animals' hoofs.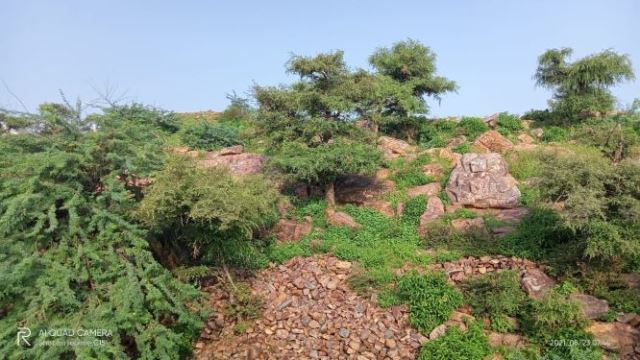 Being quite a resilient species, it is not altogether unexpected to find the Dhau at the hill's summit. Even amidst the brittle, stony landscape one can spot bushes of the resident tree peeping out from between the crevices of the boulders. However, due to the extreme scarcity of water these bushes are not able to mature into full-fledged, youthful trees. The risk of being trampled by animals further reduces their chances of survival and growth.
Considering the situation, the BTVP has chalked out a plan to irrigate the peak of the mountain so that the doughty Dhau can have its fair and well-deserved chance at life and Giriraj ji's service!
The project covering 100 hectares of land will involve the installation of a sprinkler system and a 3km-long pipeline to arrange fresh water for irrigation because the water available in the region is salty and hence unfit for irrigation. It is estimated to cost Rs. 3cr.
The 21-kos Govardhan Parikrama is one of the most important and popular religious observances in Braj, attracting around 3-4 crore devotees every year. The BTVP has launched numerous initiatives in the past four years to restore and preserve its sacred environment.