A home in God's vicinity- Boon or bane?
2022.11.23 (Vrindavan Today News): Krishna's childhood abode, Vrindavan is under seize. Not by pilgrims but by apartment builders and real estate agents. 'Ek ghar ho Vrindavan mein', the billboards are calling out loud to every visitor all over the town. And then touts in the shape of agents are eyeing for bhakts who step into the 'Mahro Vrindavan' premises to lure them into buying a flat or a villa.
The threat is real
If not checked in time, Vrinda (Holy basil) groves, the very plant from which Vrindavan derives its name, will soon be extinct and all that will remain of a holy town is a concrete jungle. Out of 24 noted forest areas only two small groves of Nidhivan, the rasleela stage of Lord Krishna and Sevakunj are in existence today. This too may soon be a thing of past. The noted 252 water bodies in Braj region have either dried up or have become hot selling land for builder properties.
Blame it on the rapid urbanization and seize of the town's heritage by building mafia in the past decade. Government's smart city plan and freehand to real estate developers has engulfed whatever little is left of this magnificent heritage.
The very essence of Vrindavan, ancient temples, ghats along Yamuna, Dharmshalas, Ashrams are all under threat as this fabled town is gradually metamorphosing into a real estate urban hub. The real estate haphazard boom has not just destroyed the greenery of braj town, but it has also suffocated the already choking Yamuna River with construction debris and sand excavation. The ambitious plan to build Yamuna River front on the lines of Narmada River front will do more damage than good if not planned meticulously to safeguard the heritage value of these ghats.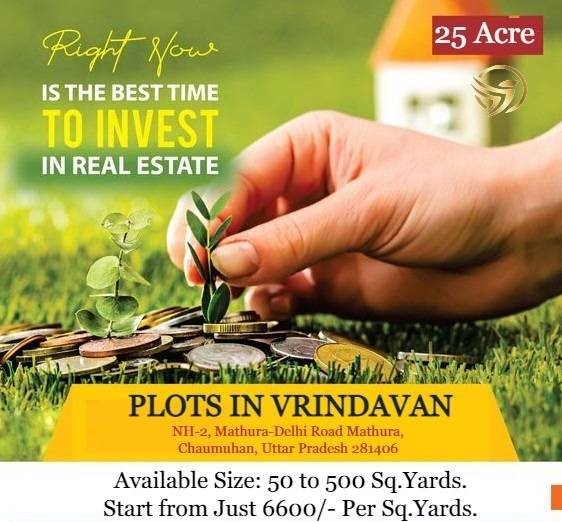 The circuit of parikrama marg, a traditional walking path along the braj dham, is slowly and steadily heading towards oblivion; reason, race to construct buildings and cater to ever increasing requirement of financially well of population. Before it's too late and one fears that we are already slightly late, the state government needs to step in and limit this menace by setting up new laws to preserve this fabled heritage town.
Who to blame?
It is the growing religious passion and spiritual awareness that is fascinating the devotees towards the pilgrim towns. And if possible, buy a second home for convenience. According to government survey, the annual footfall in braj dham is likely to grow from 2.3 crores in 2021 to 6 crores by 2041.
The growing religious fervour, increase in purchasing power and commotion in NCR and other big cities is pushing many to find a second home in the God's vicinity. The temple town has seen huge boom in real estate in the past one decade. As per the latest reports, over 30 builders, including real-estate majors like Omaxe, Eldeco, Pushpanjali, Giriraj and others have already made a huge start. From studio apartments and two-bedroom flats to villas, every option is on offer. As you approach Vrindavan, one can easily spot multitude setup of hotels, restaurants and residential multi-storey buildings offering either living or commercial space.
Improved Infrastructure, Yamuna Expressway's direct six-lane connectivity from Delhi in the North, and Agra in the south stretching towards Lucknow and beyond in the east, is now easily approachable from every corner of the country. On an average, ardent devotees visit here at least twice a year. There are others who visit every month. And most of them visit with their families and friends to stay for a few days or a week. The convenient option is that a small property in the God's own town can always be used personally and also rented for the rest of the year.
There's another group which has found a profound solace in such holy vicinity after 2020 Covid menace. The pandemic fallout and work from home culture has given further impetus to move towards religious towns. Many youngsters and working couples chose serene and affordable life of the holy city over the hectic and expensive urban survival. This trend is likely to get more pronounced in the coming future.
The state government's grand ambition and vigorous tourism impetus has also fuelled the rush to buy property in the region. The present government has adopted several measures to promote religious tourism in the state. Grand scale celebrations of Holi festival and Braj Mahotsava to name a few are likely to grow larger in the future.
On the other hand, the officials boast that in the past couple of years cleanliness drive and reduced crime rate has also attracted believers towards this holy town far beyond its capacity to entertain.
It is a fact that the spatial transformation is a reality in various religious-historical towns in India. To quote a study by Shinde, 2012, 'the need for pilgrimage infrastructure results in urban growth, which, in absence of appropriate planning regulations, threatens cultural and environmental sustainability of pilgrimage town.' While every effort is being made to enhance the pilgrim experience in Vrindavan, the authorities need to look at the larger picture beyond all initiatives. A long-term goal to sustain and retain the heritage values of this pilgrimage hotspot like Vrindavan intact.
The way out
It is definitely a challenge to conserve and preserve the religious precincts of historic towns in the era of rapid urbanization. The least can be done is banning all construction activities in heritage areas of Vrindavan, limiting the heights of buildings beyond city limit periphery, new buyers can be urged to move towards New Vrindavan, planned at a safe distance from the holy town, in Raya. Strict regulation for builders and ban on private constructions along Yamuna River should be imposed.
While we ask for this, the way out is also in place, Ministry of urban development, Government of India, 2015 scheme envisages to 'Preserve and revitalize soul of the heritage city to reflect the city's unique character and facilitate inclusive heritage linked urban development'. All that needs to be done is to swiftly and consciously work towards it.