Maan Mandir's Radharani Braj Yatra welcomed by Brajwasis
The annual Braj 84-kos Parikrama organised by Maan Mandir Seva Sansthan commenced on October 20. This year's yatra has been truncated to 30 days against the usual 40 due to third wave apprehensions.
Barsana, 2021-10-24 (Vrindavan Today News): The annual Radharani Braj 84-kos Yatra organised by Maan Mandir Seva Sansthan commenced on October 20. Hundreds of devotees took the vow and set off on the yatra after attending Radharani's aarti and receiving Ramesh Baba's blessings. This year the yatra has been truncated to 30 days as against the usual 40 due to the apprehensions around the third wave.
Shri Radhakant Shastri, Dr. Ramji lal Shastri, Narsinghdas baba, Braj Kishore, Rajkumar, Mahesh Shastri, Sadhvi Shriji and Sadhvi Gauri from Maan Mandir will lead the troupe, while educating devotees about the various lila sthalis along different stops in the journey.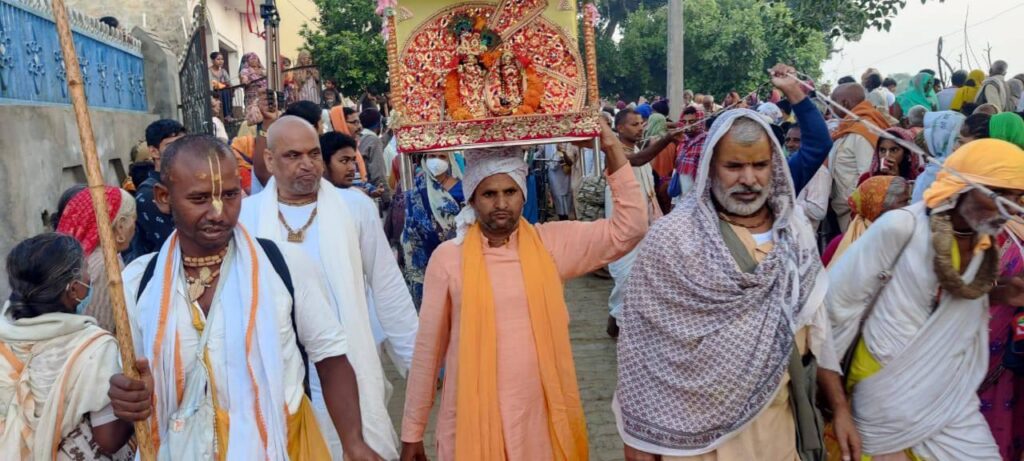 The first day in Barsana began with darshan of Maangarh, Daangrah, Bhanugarh, Vilasgrah, Dohini Kund, and Mataji Goshala. Reaching Lalita Sakhi's Unchagaon the next day, the yatris got a chance to pay obeisance at Shri Lalitha Vivaah Sthal, Chitra-Vichitra Shila, Triveni Koop, Deh Kund, Dauji Mandir established by Narayan Bhatt ji, Suryakund, Priyakund, Brajeshwar Mahadev, Ravan Van, Padar Van, Kirti and Vrshbhanu Kund and Chitra Sakhi temple.
On the fourth day devotees performed Parikrama of Nandishawar Parvat. After darshan at Nandbhavan, they visited other lilasthalis including Yashoda Kund, Maant Matke, Hau-Bilau, Charan Pahadi, Panihari Kund, Vrinda Kund, Paavan Sarovar, Mor Kund, Ter Kadamb, Aasehswar Mahadev, Krishna Kund, Sanket Van and Dou Milan where Radha Krishna first met.
All along the Parikrama devotees were welcomed with garlands and flowers. The Braj 84-kos yatra is said to be a Puranic tradition that was revived in this age by great saints of the region, and has been continuing since then.