Original structure of the temples must remain intact: HC
Not only the Banke Bihari temple, but all the temples fall in the periphery of the developmental plan should remain untouched
No Government interference in the religious practices of the priests and goswamis and the temple management
The Court will hear the case again on 17th January, 2023
2022.12.21 (Vrindavan Today News): The Allahabad High court ordered not to tamper with the original structure of Banke Bihari Temple while executing the developmental plans to revamp the area.  The court also directed that there should not be any government interference in the religious practices of the Goswamis at the temple and there rights should not be disturbed.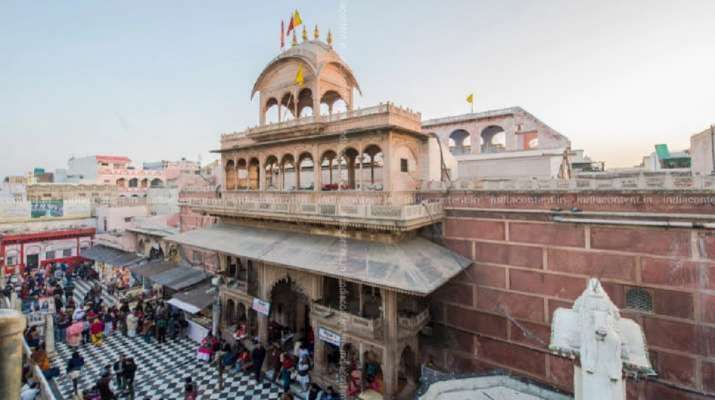 The bench headed by Chief Justice Rajesh Bindal and Justice J.J. Munir was hearing a PIL filed by Anant Sharma on Tuesday. The court also said the land to be purchased for the developmental plan will remain in the name of Banke Bihari ji Maharaj. The Government's counsel in the court said that a corpus of Rupees Two Fifty Crore is deposited in the bank in the name of Thakur Banke Bihari ji. The government proposes to utilize that fund for buying Five acre land around the temple to develop the area.
One man commission headed by Retired Justice Mr. Suhdir Narayan Agrawal submitted its report on crowd control and purchasing Five acre land around the temple for executing the developmental plan. The High Court has sought detailed report from the government on estimated expenditure for the purchase of land and the development of the area around the temple. The court sought further details on how the government propose to manage the crowd of devotees in the temple and decongest the area.
During the hearing the counsel appearing for the priests and Goswamis said that they didn't have any objection in bringing the developmental plan for the overall benefits of the devotees visiting the temple. They are only opposing that there shouldn't be any interference by the government in the operation of the temple.
The Court also ordered that the ancient temples falling in the periphery of the proposed developmental plan should also remain intact and must not be harmed. The Next hearing will be on 17th January, 2023.