The Riches of Banke Bihari
The present temple of Banke Bihari stands on the 1.15 acre land donated by Maharaja Sawai Ishwari Singh in 1748. Thakurji gave darshans at six different places prior to that.
Vrindavan, 2022-09-03 (Vrindavan Today News): Not just in India, the devotees, riches, and temples of Vrindavan's Thakur Banke Bihari are present all over the world; also in Pakistan.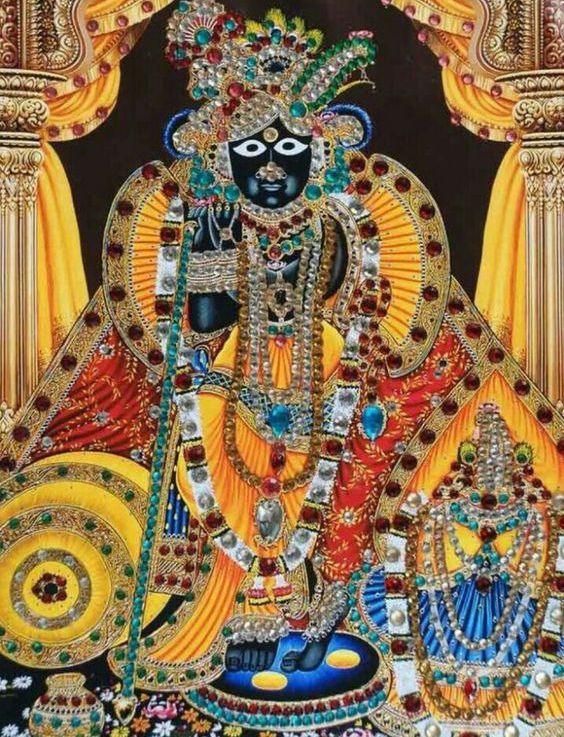 Mandir sevaiyat and historian Prahlad Vallabh Goswami says that according to the Shri Swami Haridas Abhinandan Granth published by the temple's management committee in 1957, the ruler of Multan (now in Pakistan) accepted Swami Haridas' grandfather Shri Gajadhar Maharaj as his Guru after he revived a tiger killed by him. The king gifted him with five villages as a token of respect, and also got the Radhamadhav temple built for him.
In 1507, Gajadharji Maharaj, along with his son Ashudheeerji Maharaj and the entire family, came and settled in Harigarh (now Aligarh) on the border of Braj. Swami Haridas was born here in 1512. Here as well, he received five villages in donation from the ruler of Harigarh for saving his son's life. Haridaspur – the village where Swami Haridas was born – was also included among them. Shri Radhamadhav who came along with the family all the way from Multan is still worshipped in this locality in present day Aligarh.
Swami Haridas came to Vrindavan in 1525. After the appearance of Banke Bihari in 1543, Jaipur Maharaja Sawai Maan Singh (I) donated approximately three acres of land in service of Thakurji. This area is revered as Nidhivanraj today. Around the same time, Mitasen Kayastha, the father of Biharin Dev who was born by the blessings of Swamiji, gifted another piece of land to him which subsequently came to be known as Biharindev Tila.
Thakurji received several properties from the rulers of various princely states. These include Mohanbagh gifted by Karoli, Satiharimatiji and Roopnandji's samadhi sthals by Bharatpur, and Ramnivas Bhavan among others.
THE PRESENT TEMPLE
The present temple of Banke Bihari stands on the 1.15 acre land in Dusayat Mohalla donated by Maharaja Sawai Ishwari Singh, the son of Jaipur Naresh Maharaja Jai Singh (II) in 1748. At that time, a huge chunk of Braj was under the Jaipur state.
Prior to being established in the present temple, Thakurji gave darshans at six different places. From 1543 (the year of his appearance) to 1607 he was in Latamandap, and then in Rangmahal till 1719, in which year he went to Karauli on the loving insistence of Karauli Raja Kunwarpal's queen. He was here until 1721. The next three years were spent in Bharatpur. In 1724, Goswami Shri Roopanandaji Maharaj brought him back to Vrindavan in a journey that took a toll on his life. His samadhi is situated near Vidyapeeth Circle. After staying in Nidhivanraj till 1787, Thakurji finally moved to the present temple.
In 1755, Mathura became a part of Gwalior State under Mahadaji Shinde. Delivering a monumental judgement the then 'nyayadhish' (justice) of the state entrusted the seva of Banke Bihari to the Goswamis, and ousted the opponents from Mathura for a period of 12 years. The Goswamis established Him in Dushyantpur (now Dusayat) in the old city in 1787 on a small piece of land received in donation from Jaipur state. This area is currently known as Biharipura.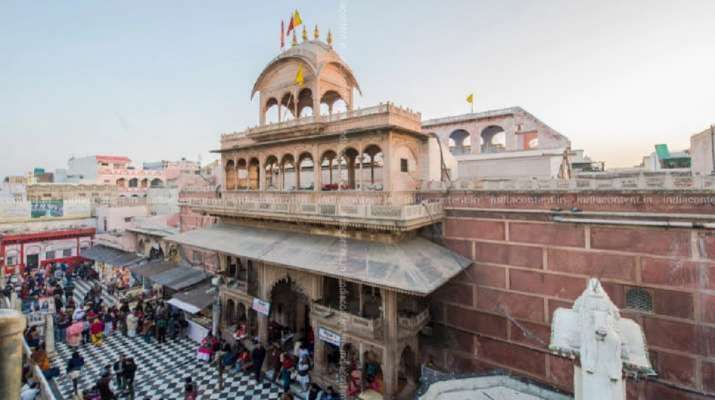 According to Parhalad Vallabh Goswami (quoted above), Maharaja Sawami Maan Singh (I) – one of Akbar's nine gems and the 'subedaar' of many important states in his empire, himself handed over the the property documents of Nidhivanraj to Jagannathji.
During the 16th and 17th centuries, Braj came under the rule of many princely states, owning individual and collective properties here. A great majority of the region was under the state of Jaipur, followed by Karauli, Bharatpur, Gwalior, Chattisgarh, and Rewa etc. Mohanbagh, Kishorepura, Biharindev Tila, Radhakund Mandir and 90 bighas land in Kota are some of their well-known contributions made to the temple.
In 1790, with the permission of Karauli King Manakpal, a portion of Gopal Bagh named and built after his ancestor Gopal Singh was given to Bihariji temple on rent. The then seivayat of Madanmohan Temple Goswami Atul Krishandevji also consented to the deal. However, after several years of defaulting on payment and dispute, the Maharaja cancelled the lease and donated the land, known today as Mohanbagh, to Bihariji.