Transient Journey of Ladli ji outside Braj
The Original Deity of Shri Ladli ji (Shri ji) was taken to Shyopur for safekeeping
The deity of a Sakhi, named Vijay Ladli was revered as Ladli ji in the absence of the original deity.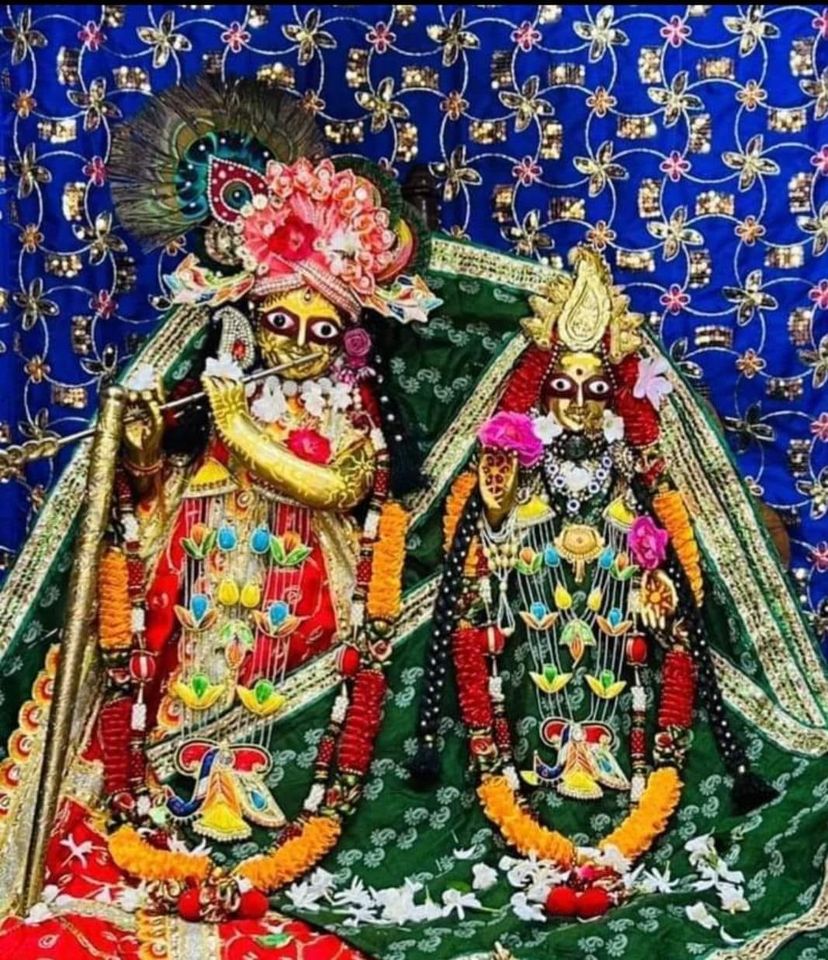 2023.09.23 (Vrindavan Today News): There is an interesting story when the deity of Ladli ji (Radharani) was taken to Madhya Pradesh.  It was in the late 18th century when a fierce battle erupted between the Mughal forces and the army of the Bharatpur state. In those days Barsana was part of the Bharatpur Princely State.
When the news arrived of the impending arrival of Mughal invaders in Barsana, the custodians of the Shriji temple in Barsana made a crucial decision to shift the deity to some undisclosed place. During the tumultuous time, the Deity of Shriji (Ladli ji) was taken to Shyopur, a town located in Madhya Pradesh. The town of Shyopur became the temporary abode for Radharani's deity for eight months.
In 1773, Bharatpur's ruler, Maharaja Surajmal's grandson Kehari Singh, occupied the throne. Due to his young age, the affairs of the state were managed by his guardian, Naval Singh. It was during this time that the Mughal Emperor Shah Alam decided to launch an attack on Bharatpur and Deeg, sending his general, Najaf Khan, to lead the assault.
Shri Krishnananda Bhatt, a descendant of the Goswami Shri Narayan Bhatt, recounted that a fierce battle erupted between the Mughal forces and the Bharatpur army in the region between Barsana and Sahar on October 30 in year 1773. Barsana witnessed fierce battle between Mughals and the Jats of Bharatpur, that forced the Jats to back step. Sensing the danger, some selected servitors took the original deity of Ladli ji to Shyopur in Madhya Pradesh for its safekeeping. The original deity of Shri Radha was replaced with the deity of a 'Sakhi' that was later named as Vijay Ladli. Najaf Khan entered Barsana the next day and engaged in looting for nearly a week. Fortunately, the temple remained unscathed.
The deity of 'Vijay Ladli' continued to be revered and worshipped in the temple, in the absence of the original deity of Radharani. However, after the situation returned to normal, the original deity was reinstalled in the Barsana temple after approximately eight months.
Since then, the deity of Vijay Ladli has remained within the sanctum sanctorum of the Shriji temple. She is worshipped and revered by the sevait Goswamis only. Generally, the devotees are not allowed to have darshan of 'Vijay Ladli' ji.
Even though Radharani's deity had briefly resided in Shyopur, the responsibility of Her service continued to rest with the custodians of Barsana temple. The Goswamis used to make journey to Shyopur from Barsana when their turn came to serve Her.