'Saptadevalaya' procession taken out for Kumbh with religious fervor
The streets of Vrindavan got charged up with the devotional cheer signifying to welcome the Seven Lordships of Vrindavan on Sunday. A grand procession of the 'Saptadevalaya' temples was taken out through the streets and market places with religious fervor. The Procession started from Cheer Ghat and concluded at the 'Vaishnava Mahakumbh' being held in Vrindavan.
The vehicles carrying the images of the 'Lordships' were decorated beautifully with the flower garlands. The tableau also carried the images of the founder Acharyas to whom the deities were manifested. The Acharya Goswamis of the respective temples walked before the tableaus along with the devotees.
The procession was marked by rendering Harinam Mahamantra and bhajans sung by the bands. Besides, many types of presentations were held in which camel and horse riders were decorated with the traditional uniforms. Flower petals were showered on the 'Lordships' seated on the decorated vehicles and the Temple Acharyas Goswamis walking before the tableaus. The 'Goswamis' were welcomed in different streets by the traders and the residents by offering garlands and sweets.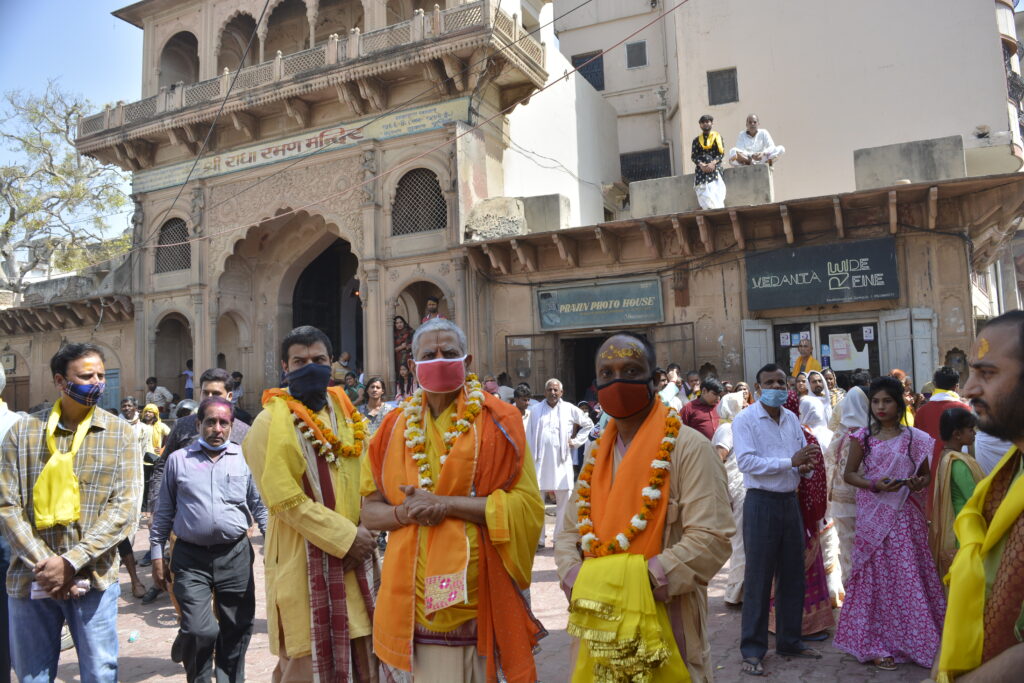 The colorful procession of the temples started two hours late than the schedule time at 11 am. It reached the Kumbh Mela site at 3 pm, after passing through Nidhivan's old gate, Radharaman Temple, Gopinath Bazar, Chungi Chowraha, Anaj Mandir, Purana Bajaja, Bankhandi, Loi Bazar, Retia Bazar, Pratap Bazar, Chungi Chouraha, Bara Bagicha, Tatiasthan.
The tableau of Madan Mohan led the procession, followed by Govinda Dev, Radharaman, Gokulananda, Shyam Sundar, Gopinath and Damodar. The Grand religious procession was also participated by the Jagannath Temple, Vrindavan Chandrodaya Mandir and Sonar Gouranga. A Grand feast was organized at the Shyamananda Prabhu Nagar after the procession was concluded at Kumbh.
Meanwhile, notifying public of the traffic diversion in the city on this occasion, the traffic department failed to manage the traffic in the city. Hundreds of vehicles remain stranded on the roads of the temple town. General Public suffered a lot due to the absence of any traffic plan by the Mathura administration for the religious procession in the city.